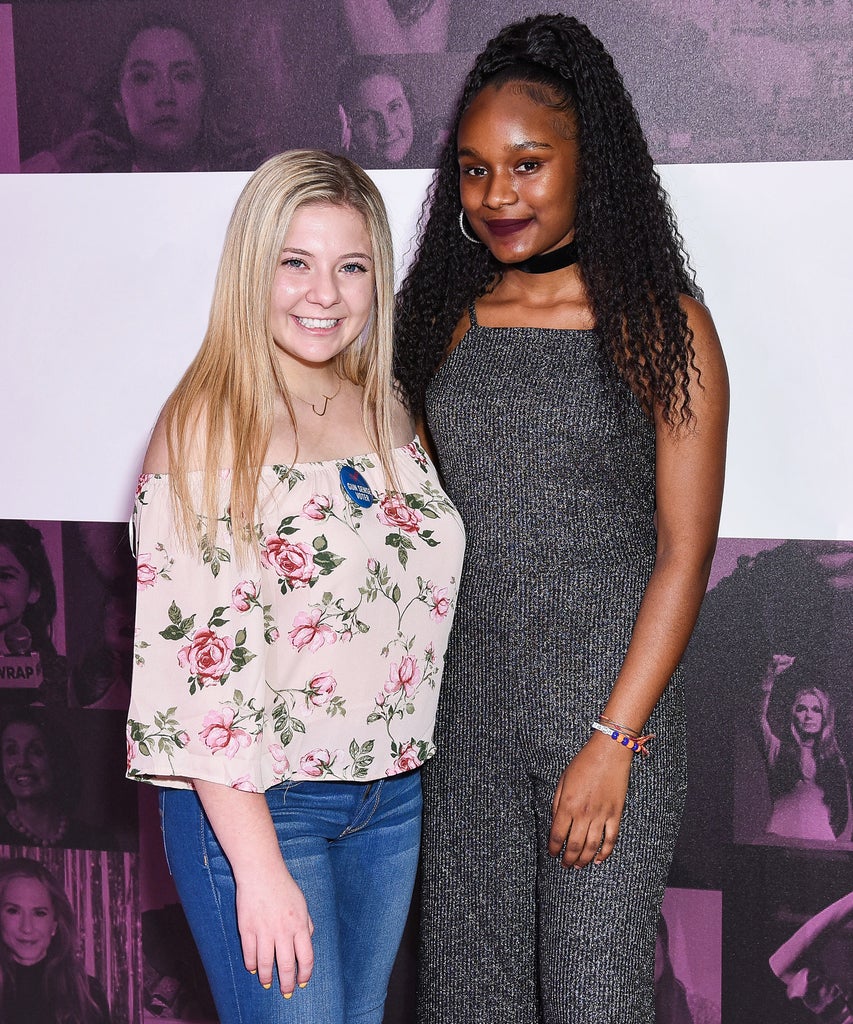 Social distancing due to coronavirus hasn't stopped many young activists from organizing. They're just taking it online. And with people stockpiling guns at "unprecedented levels" due to COVID-19 fears, which could lead to increased accidental shootings and suicides, the March for Our Lives' message of gun safety is more relevant than ever.
Today, on the second anniversary of the March for Our Lives, the group is launching a new campaign called Our Power to channel youth activism ahead of the 2020 election, Refinery29 can exclusively report. Sen. Elizabeth Warren and Rep. Lucy McBath, whose son was a victim of gun violence, will help the group launch its new online activism hub. The goal is to engage young people, focusing on voter registration and digital organizing.
March for Our Lives began as a response to the February 14, 2018, mass shooting in Parkland, FL, and has since turned into the largest youth movement in the U.S. with over 300 chapters Now, it's time to channel the numbers into voting power, working with organizations including the Sunrise Movement, United We Dream, Rock the Vote, and NextGen America.
Since its historic march in 2018, March for Our Lives has helped pass over 50 gun safety laws in the U.S., held the 2020 Presidential Gun Safety Forum, and registered thousands of new voters.
Ahead we spoke with March for Our Lives leaders Jaclyn Corin and Bria Smith — who now attend Harvard University and Emerson College, respectively — about their plans for 2020.
How has the pandemic affected your group's activism?
JC: "As we face this threat, young people are home and a lot of young people are desperate to get involved in something while they're home. Not only does March for Our Lives work toward the issues we care about, but it's a place to cultivate friendship. Now is such an important time that we need to continue — we can't pause, we have to adapt to what's happening."
BS: "We literally are all at home. It gives us time to pause, and organizers are taking their skills and adapting them to what's going on socially and culturally in our country. Right now, that's the pandemic. Everyone is starting to adapt to an online curriculum, doing things digitally from our spaces at home, like visual town halls. We always make sure to have conversations with our organizers to know what they're dealing with, and it can be a tough conversation to have, because we're such an intersectional organization; Black and brown organizations don't have access to different resources."
How do you talk to young people about gun violence amid a pandemic?
BS: "I think during the pandemic, people are buying guns out of fear. One of our board members just said they were at a Walmart in Milwaukee and people were buying guns. We have so many different distractions right now that it seems almost insensitive to bring the topic up — but it's a national emergency just like the pandemic is. Currently in this crisis, Black and brown people, lower-income people, cannot get resources and healthcare benefits. These issues go hand-in-hand."
JC: "The fact that we're cooped up in our homes does not mean that gun violence is going to stop. People still have guns in their households, and people are at risk of hurting themselves; about two-thirds of gun deaths are suicides. We have to make sure people are storing their guns properly."
What are you most excited about when it comes to this campaign?
BS: "There's so many young people in our country that are doing the exact same work as we are that don't have the relationships to politicians. It's all about building coalitions, and how do we get effective communication going? We want people to go to town halls, protest, we want to figure out what the communities need. We are a culture of chapters.
"I'm also really excited about ARTivism projects. Not everyone can speak on a panel or talk to politicians; sometimes organizing is a spoken-word piece. We need to incorporate all types of activism to have power as young people, and we can shift narratives. People really sleep on ARTivism, but there's so much people can do through music, through song and dance. How do you reclaim that narrative, from being a victim to being a powerful spokesperson?"
JC: "I'm excited to promote our Peace Plan for a safer America, and advocate for voter reforms. We're going to make sure our network is engaging people all summer, and I'm so excited to see what all of these organizations can do together, because we do such important work separately but together, we're truly going to be an unstoppable force."
What has your life been like in the past couple of years, and are you still engaging in activism in college?
JC: "I stepped away from the everyday functions of the organization when I went to college, just because I was getting a little burned out for a while. I'm still in the know, but not on an everyday basis. I haven't done any activism around gun violence in college, but I'm involved in a civic engagement group on campus and I'll be studying Government as my concentration. This showed me that activism is powerful because you can step away and the job will still get done, which I didn't understand for a while. But watching the organization grow and flourish without me, watching who takes the rein, we are constantly bringing in new students.
"This summer, I'm going to be back and excited to get to know new leaders in our organization."
BS: "I am studying journalism at Emerson College, and I've attended the March for Our Lives in Boston. March for Our Lives, in the past two years, through talking to people from different background and areas, has showed me that people may go through different things but we're all in this together. I'm ready to take 2020 back — we're well-rested, and it's time to come back into the fight."
from
refinery29
Fighting Gun Violence In The Age Of Coronavirus
Reviewed by
streakoggi
on
March 24, 2020
Rating: