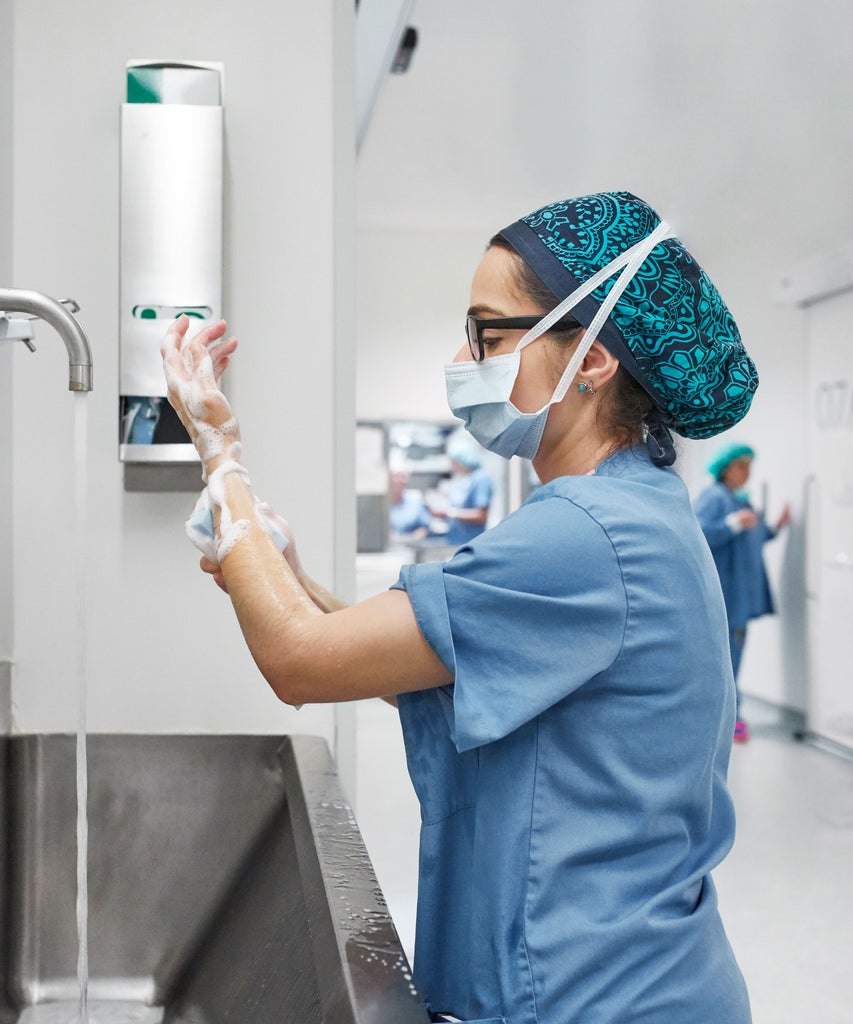 When the world seems scary, helping other people can make you feel more in control and hopeful. That's especially true right now, as coronavirus continues to spread worldwide.
It may feel difficult to find ways to volunteer during the COVID-19 crisis, given the big push for people to isolate. But there's plenty you can do to lend a hand during this outbreak that doesn't involve putting your own health or other people's at risk.
Our advice: Focus on supporting the people and institutions that are the most in need right now, including healthcare workers and hospitals. Here's what they need from you.
Stay at home
We know — you've heard it a million times. But it bears repeating. "If you're not sick right now, your best chance of not getting sick is to stay home," Jill Lauren, MD, a board-certified emergency medicine doctor and attending physician at Palo Alto Medical Foundation Urgent Care in Santa Cruz, California, previously told R29. "If you are sick and you don't know it yet… your best chance of not giving it to someone else is to stay home."
This advice helps everyone, but especially healthcare workers. "Your best chances of not giving your disease to your doctor or other patients is to stay home," Dr. Lauren said. It also helps ensure that the health system isn't overwhelmed by thousands of sick patients at once. As Dr. Lauren summed up: "All roads lead to: Stay home if you can."
Push for PPE
That stands for "personal protective equipment," such as face masks or gloves. These and other critical medical supplies are dwindling, and healthcare workers need them to stay healthy and safe.
"We're severely limited in N95 respirators, and having to reuse face shields and those kinds of things," Meghan Spyres, an emergency medicine physician at LA County USC, previously told Refinery29. "If we run out of masks completely, and it looks like we may, then we won't have the protection that we need."
"A lot of nurses are requesting disposable scrubs or hazmat suits to wear over our clothing to make the shift back to home life easier," adds Rachel Norton, an ICU travel nurse who works with NurseFly, a temporary healthcare staffing platform. "I know nurses who are stripping at the door hoping no neighbors are watching!"
Consider donating your time or money to Direct Relief, a non-profit that helps to bring essential medical items and protective equipment to healthcare workers responding to the coronavirus.
If you're feeling crafty, you can sew face masks to donate to healthcare facilities. Joann Fabrics and The Mask Project have created sewing patterns, and says that anyone who makes their own masks can drop them off at their stores to be donated. While studies have shown that handmade masks aren't as effective as medical-grade ones, cloth masks could help N95s last longer — especially where healthcare workers are being asked to reuse masks.
Worth noting: Anyone that has a surplus of PPE can drop the supplies off at any hospital, no questions asked, says Norton.
Advocate for aid
Call your senators and your state representatives to ask what they're doing to make sure that doctors and nurses in your state are getting access to PPE. Urge them to increase U.S. manufacturing for masks, gowns, and other protective equipment, as well as military aid and hazard pay for workers.
To reach senators and representatives, you can give the U.S. Capitol Switchboard a call at (202) 224-3121. An operator on the line will be able to connect you directly to the office you request.
Say thanks
Text or call any healthcare workers you know personally, and thank them and offer whatever support you're capable of giving right now, suggests says Shannon Sovndal, MD, the EMS medical director in Boulder, Colorado. "It's a simple gesture, but it goes a long way."
Don't know any healthcare workers personally? You can find them on Twitter or Instagram and give them a virtual shout out, or send an email (or old-school letter) to a local hospital.
"The outpouring of support from friends on Facebook and the sense that nurses are finally being recognized for our key role in healthcare is a silver lining to this public health crisis," says Norton. "I think all nurses feel motivated and uplifted by the community to keep on going in the face of fear."
Send food
"Some hospitals have shut down cafeterias, or severely limited the food options that are offered, so food is always welcomed by nurses," Norton says. "We often don't have time to go home and cook a meal between shifts. Or, we are working so much overtime we don't have time to meal prep."
Many organizations are finding ways to deliver meals to healthcare workers, such as Lunches for Clinicians in Colorado and Meal Delivery for Puget Sound in Washington. Individual restaurants are also helping out, including Naples Pizza in Connecticut, Juicy Platters in New Jersey, Kelvin & Co. Uban BBQ in Michigan, and Danny's Pizza and Burger Bar in Illinois have all pledged to help out.
Do a little Google sleuthing to find out if any restaurants in your area are supporting local hospitals, and if so, call them up to donate money, or buy gift cards or meals for yourself.
Give to charity
Donate money to a charity or organization that helps healthcare workers and hospitals. There are plenty to choose from, including Center for Disaster Philanthropy, which has created a COVID-19 Response Fund to support those affected by coronavirus as well as first responders. Or give directly to hospitals in your area.
Donate blood
The American Red Cross announced it's experiencing a "severe blood shortage" because many donation drives have been canceled or postponed as coronavirus continues to spread.
"Every two seconds, someone needs a blood transfusion — that someone may be a cancer patient, a car accident victim, or a mother who has given birth," Jodi Sheedy, senior director of biomedical services communications for the American Red Cross, told The Hill.
To donate blood, you can find upcoming drives that haven't been canceled via the American Red Cross's website. Worth mentioning: The Red Cross says that there's currently no evidence that COVID-19 can be transmitted through blood.
from
refinery29
How To Support Hospitals And Healthcare Workers During Coronavirus
Reviewed by
streakoggi
on
March 26, 2020
Rating: