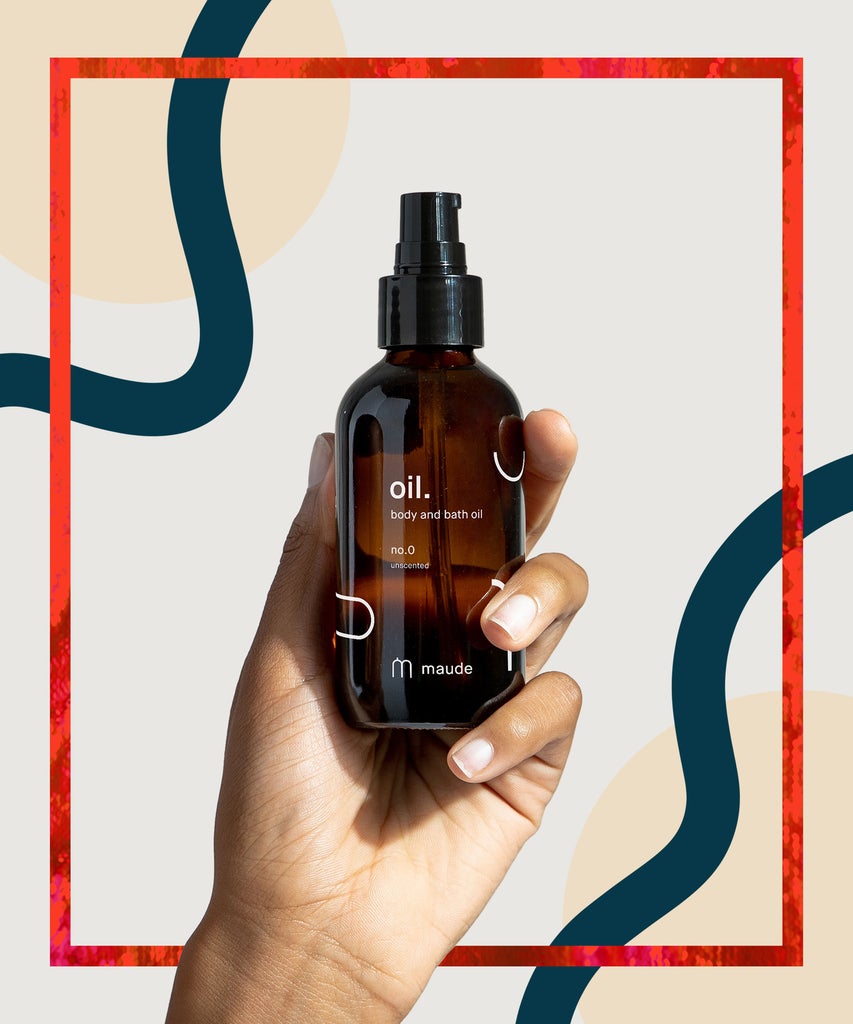 What do a
tiny-but-mighty vibrator
, fan-fave organic lube, and now, a nourishing body oil have in common? They're all from
Maude
, the female-founded sexual wellness brand that's shaken up an industry that hasn't always been known for elevated design and minimalist packaging. (There are, of course, exceptions to the sea of neon dildos.)
"While intimacy is often synonymous for sex, we really think of it more holistically: The before, during, and after all matter — and our customers think so, too," Maude co-founder Éva Goicochea tells R29. "For two years, we've been asked to make body care. When we finally decided to create it, we wanted products that complemented the existing collection and that were for both self- or partner-use." Joining a lineup of bath products (
compostable body wipes
, a
sea salt soak
, and
hydrating milky powder
), Maude today launches its latest body product, a hydrating bath and body oil aptly named
Oil
.
Now, if you're looking for a mega-shimmery body oil to make you glisten in a sexy-sweaty way à la
Britney Spears' "I'm A Slave 4 U" video
, this is
not that kind of product
. Maude's take on body oil is completely unscented (I'd like to think 2001 Brit probably smelled like Victoria's Secret Love Spell or perhaps an early sample of Curious), certified organic, and is made with just four ingredients: Organic jojoba, MCT (medium-chain triglyceride), argan, and castor oils.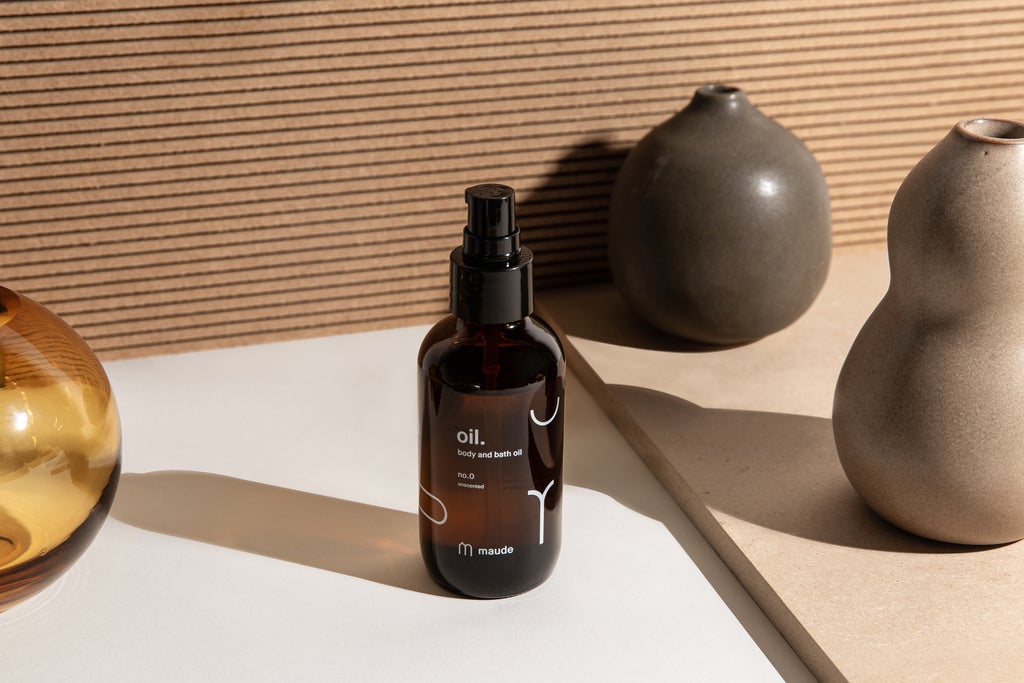 In addition to keeping your bod (and face!) hydrated, Oil was also designed to be a perfect massage oil to share with a partner. "Our body collection is a continued commitment to intimacy in and beyond the bedroom," she tells us.
While my boyfriend and I have yet to experiment with the art of sensual massage (I am notoriously ticklish), I can attest to the versatility of the product in other ways: Massaged into cuticles to prevent scraggles (not the scientific term, no), mixed with foundation for a DIY tinted face oil, and on the ends of damp hair to make strands soft, shiny, and frizz-free. This is not so much a gripe than it is a personal preference, but when they say fragrance-free, they mean it: I rubbed the stuff all over my arms and legs and…nothing. I personally don't mind a natural, subtle scent, but since sensitive skin types don't always jive with things like essential oils, I can see why Maude opted for unscented.
At $35 for a four-ounce bottle, it's also a significant value compared to luxe face and body oils that go for upwards of $100 for a single ounce. (BTW, for a limited time, Maude is offering 15% off your order with
promo code
NIGHTSIN
.)
"Touch is a huge part of feeling connected and close. In fact, studies have found that it
raises oxytocin levels
and in turn, is helpful to overall health and bonding," Goicochea explains. "By creating shareable, multipurpose body care, we hope people feel inspired to create more time for real intimacy, especially at a time like this."
Shop our other Maude faves, below.
from
refinery29
Maude Just Launched A Pretty Sensual Body Oil — And We Tried It Out
Reviewed by
streakoggi
on
March 26, 2020
Rating: