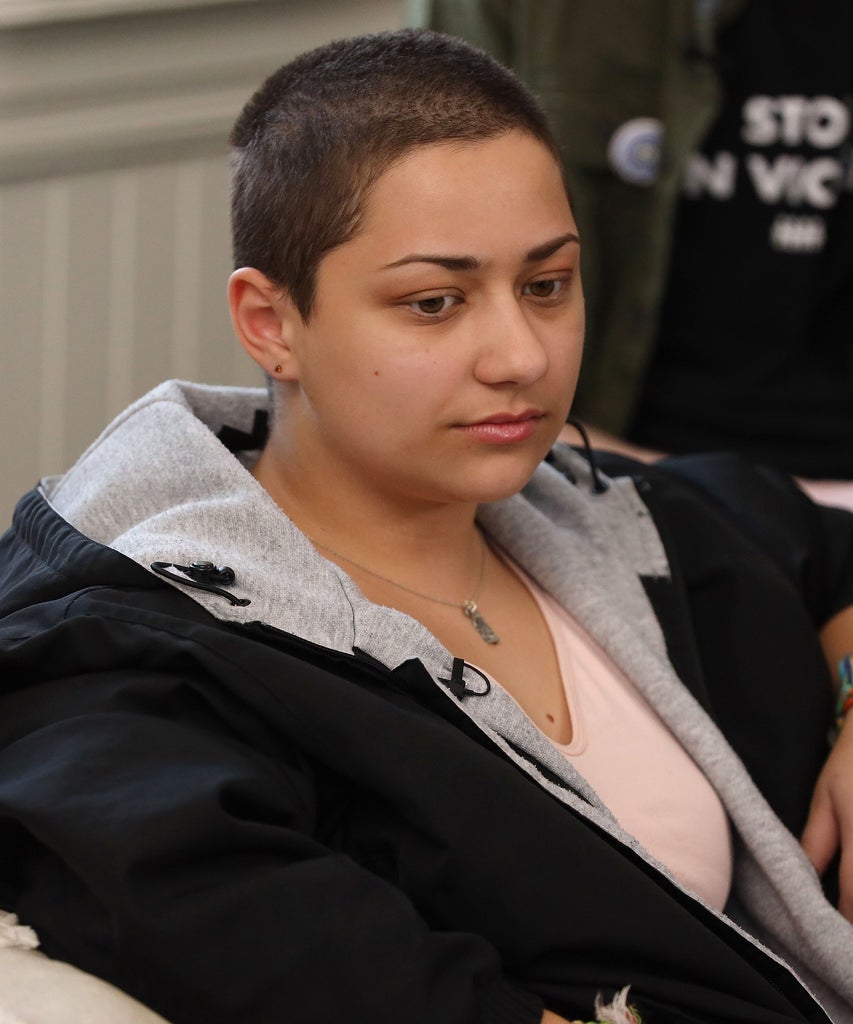 On the two-year anniversary of the first March for Our Lives, started by students who survived the Parkland shooting in 2018, young activists like Emma González are still doing the difficult work. March for Our Lives and González herself both had extreme global impact on conversations surrounding gun control and mass shootings, disrupting the notion that we'd never make progress in pushing political leaders to take it more seriously.
After a former student showed up at Marjory Stoneman Douglas High School in Parkland, FL, with an assault weapon on February 14, 2018, killing 17 students and staff and injuring 17 others, survivors like González immediately sprung to action. In the wake of the shooting, González and her friends Cameron Kasky, David Hogg, Jaclyn Corin and more, helped ignite a conversation about gun violence and, in the following month, launched the largest youth movement against gun violence that's ever existed.
In March of 2018, González kicked off March for Our Lives, a country-wide rally that captured the streets of major cities across the U.S., in a bone-chilling 6 minute and 20 second speech — most of which was complete silence, to make people around the world understand the excruciating feeling she and her friends felt during the time it took for the shooter to terrorize the school. In total, the speech, with silence, was the same length of time it took him to shoot up the school.
"Six minutes and 20 seconds," she began her speech. González then named those who were killed that day, in a tone of anguish, and went on to say, "My friend Carmen will never complain to me about piano practice." She continued saying names until her speech came to an abrupt hault, and she stood in silence for the remainder of the six minutes and 20 seconds, tears streaming down her face. At the end of the speech, she pleaded us all to fight for our lives before it's "someone else's job." Approximately 200,000 people attended the rally in total.
So, what is Emma González doing since she started a revolution? The young activist, whose organizing work and voice has been an immeasurable service to the world, has an incomparable ability to help the world understand the deep grief and consequences caused by gun violence. Since she graduated high school in 2018, she's since gone on to become a student at New College of Florida. In 2020, she's urging people to turn up at the polls and make a difference in their communities and country at large, using their voice and votes as power.
I VOTED EARLY TODAY !! IT WAS MY FIRST TIME VOTING IN PERSON AND I FINALLY GOT A STICKER !!!!! pic.twitter.com/qTrYNeaJwP

— Emma González (@Emma4Change) March 15, 2020
The Cuban, bisexual powerhouse, who's unapolagetically loud about her identities and standing up for marginalized, at-risk people, continues to frequently organize in her community and uses social media to rally people to use their voices and privilege to make a difference. In recent days, she's even launched a March for Our Lives zine, titled "Unquiet," about continuing to use your voice for the greater good.
González continues to act in the greater interest of her community by organizing for causes and instigating change among local leadership. In a recent testimony to Florida representatives, she wrote about how meaningful her college acceptance was, why she chose her school, and why she does not want representatives to vote for a merger between her school and a larger college.
Even two years later, González continues to tout the messaging of March for Our Lives and protect the lives of other young people above all else. "If you are in a position of power, you need to aim to make the world a better place for every-one living here, not just yourself and your donors," she told TIME magazine. "Stop allowing violence to persist and being shocked when the youth are softer and gentler than you."
from
refinery29
Two Years After March For Our Lives, Here's What Emma González Is Up To
Reviewed by
streakoggi
on
March 24, 2020
Rating: