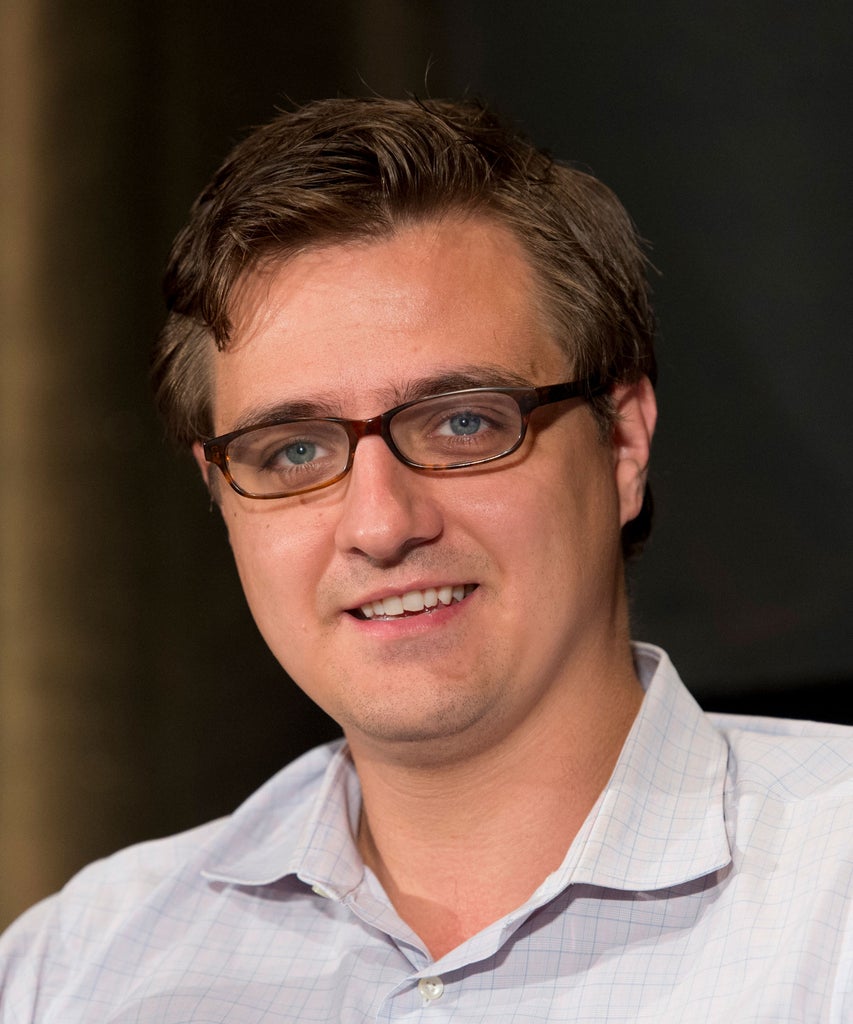 On Thursday, Twitter users demanded that MSNBC
#FireChrisHayes
, so much so, that the hashtag began trending. The tweets are coming from both right-wing media and Democrats constituents who are all upset that the host of
All In With Chris Hayes
covered sexual assault allegations against the presumed Democratic candidate for president on his show. The trending topic is highlighting the inflammatory discourse that has bubbled up around the allegations against Joe Biden by a former staffer, Tara Reade.
On Wednesday night, Hayes dedicated a segment of his show to discussing Reade's allegations. "There have been moments… for all of us when we have heard about accusations against someone that we find ourselves desperately wanting not to believe," Hayes said to open the segment. He continued on in describing difficulties when accusations are against someone for whom we have "political admiration— someone on our 'side.'"
"But part of the difficult lesson of the Me Too era is not that every accusation is true and everything should be believed on its face, but that you do have to fight yourself when you feel that impulse," Hayes continued. "You have to do that in order to take seriously what is being alleged and what the evidence is and to evaluate it." As a result of these statements, Twitter began to speculate everything from Hayes' motives on air to whether he was a
"Russian agent."
Chris Hayes has been one of the media's most virulent, relentless & arguably effective Trump critics -- an all-consuming loathing for the President -- but

#FireChrisHayes

was trending because he covered the sex assault allegations against Biden.

Shows what MSNBC has cultivated.

— Glenn Greenwald (@ggreenwald) April 30, 2020
Hayes is among few mainstream journalists to even address Reade's allegations against Biden. Mainstream media
has been slow to cover Reade's story
about being digitally penetrated by Biden when she was a staff assistant in 1993. She shared her story on Katie Halper's podcast on March 25, but it wasn't until several weeks later when
the New York Times
and
Washington Post
published investigations and addressed her allegations. Both publications
were criticized
for framing their reporting in ways that downplayed their findings, and Biden's campaign continues to deny all allegations against him.
Hayes' coverage comes in light of new evidence that has emerged over the past week that corroborates Reade's story, including a neighbor who confirmed that Reade told her about the assault and
a 1993 tape from Larry King Live
that appears to show Reade's late mother calling into the show and mentioning "problems" her daughter had with a "prominent Senator."
Despite the allegations, Democratic members of congress have continued to support the Biden campaign. "I stand by Vice President Biden,"
Senator Kirsten
Gillibrand said
when asked about the allegations on Wednesday. "He has devoted his life to supporting women and he has vehemently denied this allegation." House Speaker Nancy Pelosi also
said
she is "satisfied" with Biden's response to the accusation.
However, Hayes' coverage has opened another kind of floodgate for others who support all investigations of claims against Biden. "Really, really proud of Chris Hayes for covering the Tara Reade story,"
tweeted journalist Carlos Maza
. As Biden attempts to rally women behind him — even with his declaration of promising a woman as his running mate — it seems that the allegations against him will continue to make way into public attention. And, Hayes' actions, despite the backlash that ensued, show a clear choice to remain in favor of believing women, no matter the circumstances.
from
refinery29
Twitter's Demand To Fire Chris Hayes Goes Against The Entire #MeToo Movement
Reviewed by
streakoggi
on
April 30, 2020
Rating: