"I'm depressed, but feel I have no right to be."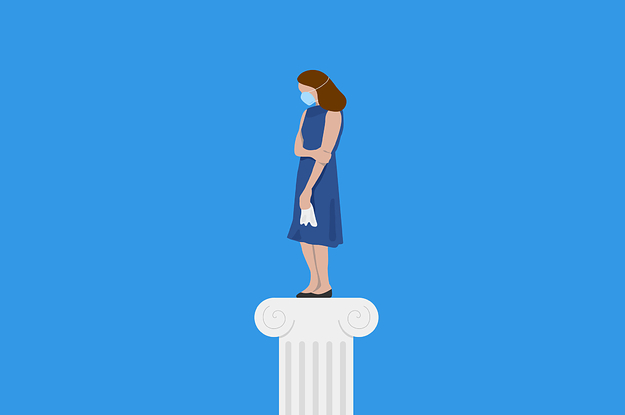 Nancy, a 24-year-old first-generation American who grew up "mostly low-income," is the only member of her Central American and Caribbean family to have left New York. She currently lives in Los Angeles, where she's employed full time as a production coordinator. She's been working since she was a teenager. Now, as Nancy's seen others lose their jobs or risk their health as frontline workers during the coronavirus pandemic, she feels "lucky enough to work somewhere that 1) I enjoy quite a bit and 2) pays me a salary that [means I can] afford an apartment and the majority of my bills and not feel underwater," she told me. "It's definitely still all very new to me to have all of this at my age — the goal is very much to eventually give back to my family." She was diagnosed with depression and anxiety in her late teens, and has been struggling through some bad spirals during the lockdown, mostly in silence.
"I only recently spoke to a friend about not feeling too stable, and still felt burdensome," she said. "Even when she told me that I wasn't being a burden, I still felt like I couldn't take the 'handout,' for a lack of better word." She hasn't sought support elsewhere, because "I don't want to put it on my friends and family." She's been crying herself to sleep or getting "incredibly high" at night to cope. "It's destructive and I'm fully aware of that," she said. "But I'm also so painfully aware of everything else that I feel like a bit of a brat for even going through these emotions."
She's not alone. Anxiety, grief, and trauma are natural responses to the pandemic, but placed in a class context, some people are finding it hard to accept or give voice to their own feelings. Anna Borges, a former colleague of mine who writes about and reports on mental health, has discovered in her interviews with therapists over the past month that "many people feel ashamed of their emotions because of how their circumstances compare to others in more vulnerable positions. And it's adding extra distress to an already awful situation." My own therapist, who frequently calls me out for downplaying my anxieties — I love to insist that nothing is ever "that bad" — caught me in downplaying overdrive when we had a phone session earlier this week. After listening to me beat myself up for a particularly dark spell of depression, when I was mostly recovered from presumed COVID-19 symptoms but still seized with stomach cramps and ground down by weeks of fatigue, she gently reminded me that feeling badly was the most natural response in the world to a pandemic, no matter my relatively privileged position.
---
View Entire Post ›
from
buzzfeed
When You're Anxious And Depressed — And Feeling Guilty About Your Privilege
Reviewed by
streakoggi
on
April 27, 2020
Rating: