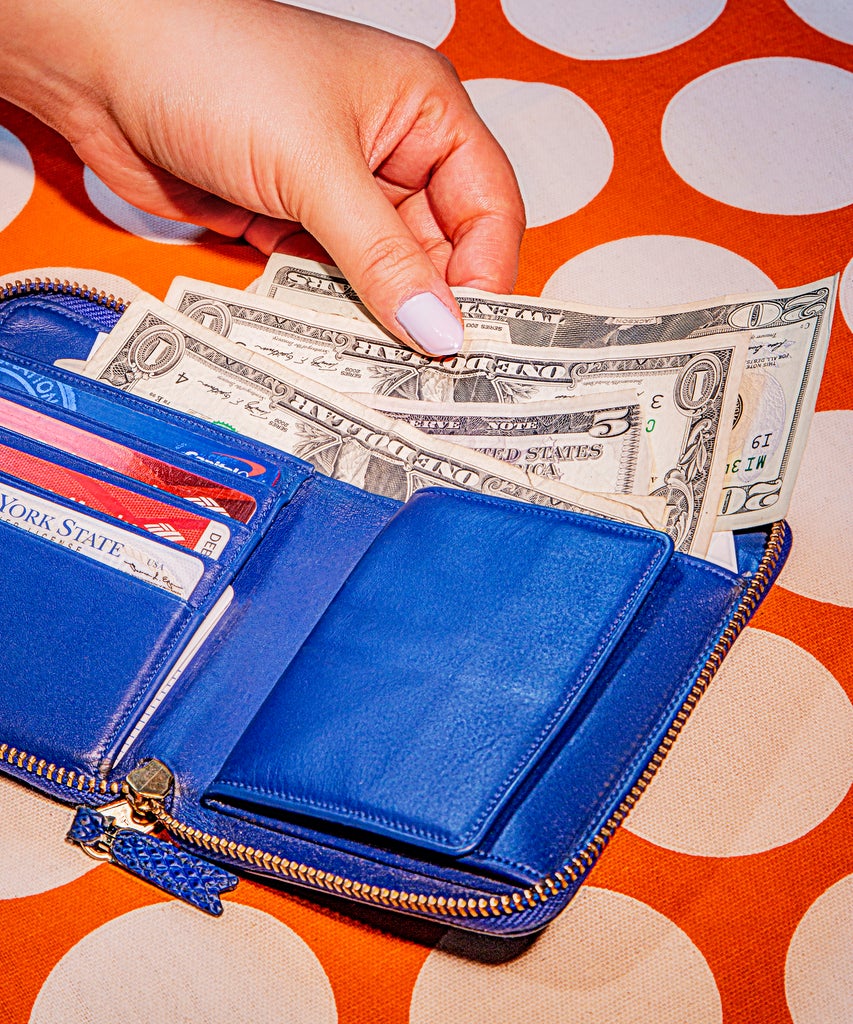 Although stimulus checks are finally beginning to arrive in bank accounts for millions of Americans this week, not everyone will automatically benefit from that influx of money. The people who won't be receiving stimulus checks — include college students, minors who are dependent on their parents, and many immigrants — are among the individuals who are still coping with the loss of financial stability during the current pandemic. Beyond that, small businesses are still struggling to receive bailout payments from the CARES Act, and millions will need to eventually cope with reality in the aftermath of this economic downfall. Still, many people remain in full-time jobs with fewer expenses now that they're staying home. Those people might now find themselves with a surplus of funds that they are hoping to donate or contribute to those who are still finding ways to cope.
In light of this, a new initiative that is making the rounds on Twitter seeks to rectify the disparity of funds. The
#ShareMyCheck
campaign, a project led by
Resource Generation
, is spearheading efforts for those who can to share their stimulus checks whenever and however possible. According to the program, which was started in Massachusetts and is working to create resources that span the country, local-level help is what will make the greatest impact right now in every city and state.
As a result, the hashtag
#ShareMyCheck
has started trending on Twitter and is inspiring people all over. In light of these, we've put together options and resources for anyone looking to donate money from their stimulus checks to those in need. Here's where you can donate your money now:
PPE manufacturers for healthcare workers
U.S. healthcare workers are still coping with a shortage of Personal Protective Equipment (PPE), and many are functioning with just one mask per day.
Get Us PPE
is a group run by medical workers who are advocating for more PPE production by manufacturers. The group sends, receives, and coordinates donations while helping mask-making communities far and wide learn the best ways to make masks. You can find their comprehensive map of donation locations across the country with information about how to donate on their site. Another opportunity to donate would be to help
Direct Relief
, which is also delivering personal protective equipment like masks, gloves, and gowns to healthcare workers on the frontlines. 
Food banks 
Lots of food banks have been hit harder than many, and food banks are one of the most important resources for people in need of groceries and nutrients. If you want to donate your check or part of it to people in need of food,
Feeding America
has seen a serious increase in the number of people visiting their local food banks and pantries. The organization has launched
an emergency fund
to keep its shelves stocked and people fed.
Incarcerated people
People in prisons are one of the populations hit hardest by the pandemic, with incarcerated people lacking hand sanitizer, soap, and overall financial or material help. They're left highly susceptible to COVID-19 because of overcrowding and this lack of resources. Funds like the one that the
Last Prisoner Project
has started are helping people in jails and prisons right now access phone calls, legal help, sanitary supplies and more.
Local business and restaurant relief funds
With so many people staying home, local businesses and restaurants around the country have had to cut costs if not completely close. And, although some have been able to apply for federal assistance, there have still been extreme losses in money. Now, local business relief funds like the
Opportunity Fund
and the National Restaurant Association's
Restaurant Employee Relief Fund
need your donations.
Animal shelters
Besides helping out by adopting or fostering animals during this time, you can also give a huge helping hand to animal shelters by donating some of your extra money to help out.
The Humane Society
is taking donations for its COVID-19 relief fund, asking anyone who can to give money to help shelters and rescue groups that are struggling to absorb extra costs right now. 
Domestic violence shelters and hotlines
Since the beginning of the pandemic, there's been a huge uptick in domestic violence as well as people experiencing abuse. As such, shelters and hotlines are busier than ever trying to provide resources and care to all of the people looking for comfort, answers, and solutions. You can donate to organizations like
ChildHelp
, to assist those helping abused children, or the
National Coalition Against Domestic Violence
, helping people experiencing intimate partner violence or other forms of violence at home.
from
refinery29
Where To Donate Your Stimulus Check, If You Are Able To
Reviewed by
streakoggi
on
April 21, 2020
Rating: