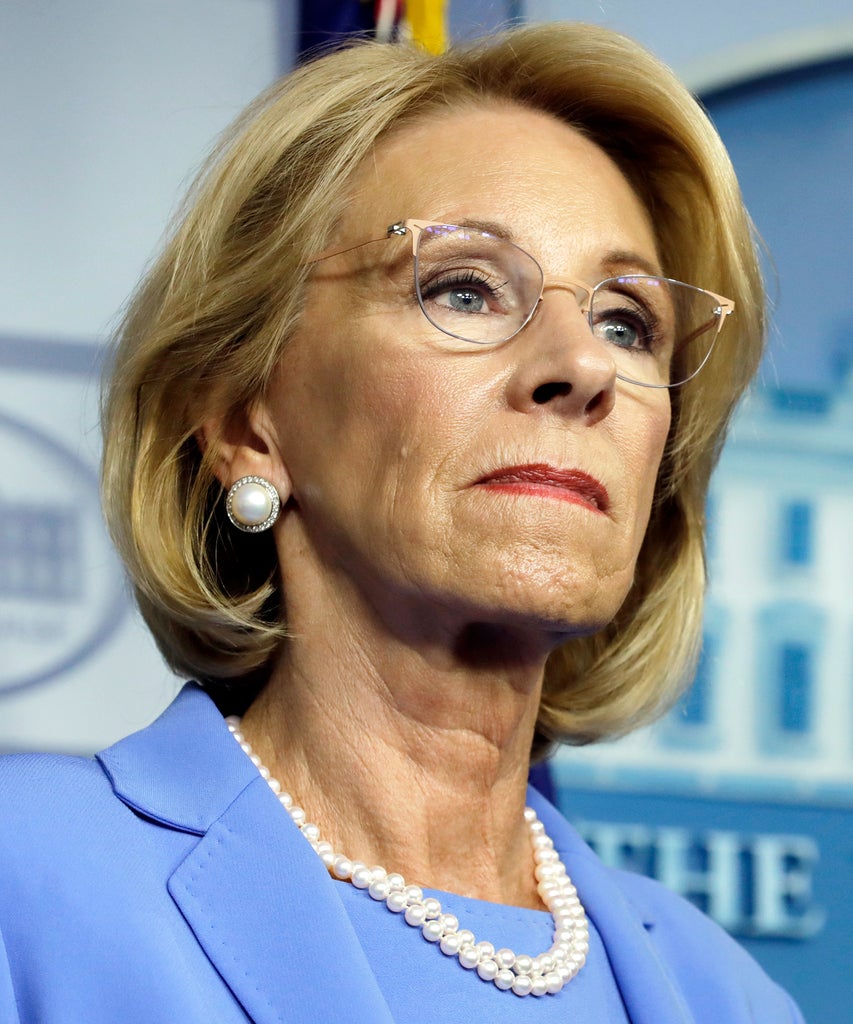 Amid the coronavirus pandemic, the White House released new Title IX rules this week that will change the way campuses respond to sexual assault allegations. Education Secretary Betsy Devos issued the final set of rules on Wednesday — despite pushback from advocates —that will provide further protections to people accused of sexual misconduct and put survivors at a higher risk.
Devos's new guidelines
will require colleges to respond to sexual assault accusations with a more formal investigation and courtroom-like hearing process. They will also require administrators to share evidence with accused students and their parents. Advocates for sexual assault survivors say the new guidelines are an attack on the rights of student survivors and favor perpetrators. What's more, advocates are alarmed by the timing of this filing.
"This new rule would be welcome at no time, but is particularly egregious now, during a national pandemic that has turned the lives of students upside-down and forced many schools and communities into crisis," Know Your IX, a national survivor- and youth-led project
wrote in a statement
.
Title IX has been under a national spotlight for at least the last decade as colleges and universities have seen a number of high-profile cases, for instance at Stanford University and Columbia University. In 2017, the Education Department's Office for Civil Rights (OCR)
opened 304 investigations
related to sexual violence at 223 colleges and universities. That number was up from 55 schools just three years earlier.
Statistics compiled by the nonprofit
Rape, Abuse & Incest National Network
paint a particularly grim picture of campus sexual assault. According to RAINN, more than 23 percent of young women in undergraduate programs experience rape or sexual assault. Likewise, more than 11 percent of students in undergraduate and graduate programs combined will experience sexual violence.
The Obama administration's OCR issued guidance documents in 2011 and 2014, now known as the
"Dear Colleague" letter
, that would require schools to ramp up investigations into sexual misconduct cases. The letter stated that schools must comply with existing Title IX legislation, and should use a "preponderance of the evidence" standard to determine decisions in sexual assault complaints, meaning they would be decided on the most convincing evidence presented. These guidelines were followed by a
flurry of civil lawsuits
filed mostly by male students who claimed their rights were being violated.
Now, survivors of sexual assault say the new guidelines are harmful and create a "biased reporting process," and ignore the more than 124,000 public comments submitted by survivors, students, and their families who urged Devos to rescind it. During the comment period, which opened in 2018, survivors shared their stories and outlined how the proposed regulation would essentially absolve schools of any responsibility in cases of campus sexual assault and discrimination.
"The final rule makes it harder for survivors to report sexual violence, reduces schools' liability for ignoring or covering up sexual harassment, and creates a biased reporting process that favors respondents and schools over survivors' access to education," said Know Your IX manager Sage Carson in a statement.
New evidence and
cross-examination standards outlined in Devos's regulations
would allow the direct cross-examination of sexual assault accusers, in a challenge to their credibility. Further, any statements that are made and are not cross-examined in a Title IX hearing cannot be used as evidence, the policy outlines. As such, advocates say these guidelines could further prevent survivors from coming forward.
Devos's guidelines also change the definition of what constitutes sexual harassment under Title IX, making it harder for accusers to come forward with a complaint. Per the new policy, harassment is defined as "unwelcome conduct that a reasonable person would determine is so severe, pervasive and objectively offensive that it denies a person access to the school's education program or activity." The new definition would require students to essentially feel so unsafe or unwelcome in class or on campus before they could even file a Title IX complaint.
The timing of this new policy is not lost on advocates, who say the Trump administration should not be creating more burdensome circumstances for students already facing uncertainty in a global public health crisis.
"All this as students struggle to find housing, keep up with online classes, and pay rent as the unemployment rate soars," Carson said. "What these students need is support, not another attack from DeVos and Trump."
Why Trump Is Suddenly Attacking Women Journalists
AOC Addresses Biden's Sexual Assault Allegations
Nurses Help Assault Victims With At Home Rape Kits
from
refinery29
Betsy Devos Tries To Bulldoze Title IX College Sexual Assault Rules
Reviewed by
streakoggi
on
May 07, 2020
Rating: