The rites of prom have become canon in American culture: the elaborate "prom-posals," getting ready, taking photos, the excitement of seeing everyone at the dance. Now, due to coronavirus social distancing restrictions, teens are inventing new prom traditions, taking the dancing and decorations to Zoom and TikTok. It hurts for many not to be able to cap off their high school experience in-person, but their creativity is shining amid trying times.
High school senior Denise Hewitt (
@thedenisestephanie
), 18, who lives in Bergen Beach, Brooklyn, says her prom was supposed to take place on June 6, but with coronavirus still raging in New York City and schools closed for the rest of the year, it looks unlikely to happen in-person. So, Hewitt and her friends are going to have a dance Zoom party. "I think my friends will probably have our own little party, put some music on in the background, make it our own night," Hewitt told Refinery29. "My graduating class is about 16 people…the benefit is you can't really have gossip because everyone knows each other. I've never had the high school trope of the cliques, we're too small for that."
Hewitt, who plans on attending New York University this fall, has been creative in one way or another from a young age, building dollhouses out of cardboard when she was a kid. Recently, her star has been rising: She photographed Emily Blunt for
Marie Claire
's
March 2020 cover story
. As a photographer, fashion designer, and makeup artist, she continues to create in quarantine.
Hewitt's latest project is her virtual-prom dress, inspired by the 1997 Cinderella film with Brandy, which she plans to sew for herself. (She photographed her mood board and sketches for Refinery29.) She grew up watching Brandy on BET, and decided to take matters into her own hands when she didn't see her dream dress anywhere for a reasonable price. Like Brandy's dress, it will be the perfect shade of aquamarine-blue and poofy with a giant train. The 2020 update is that it's strapless, has a high-low hemline, and has to have pockets.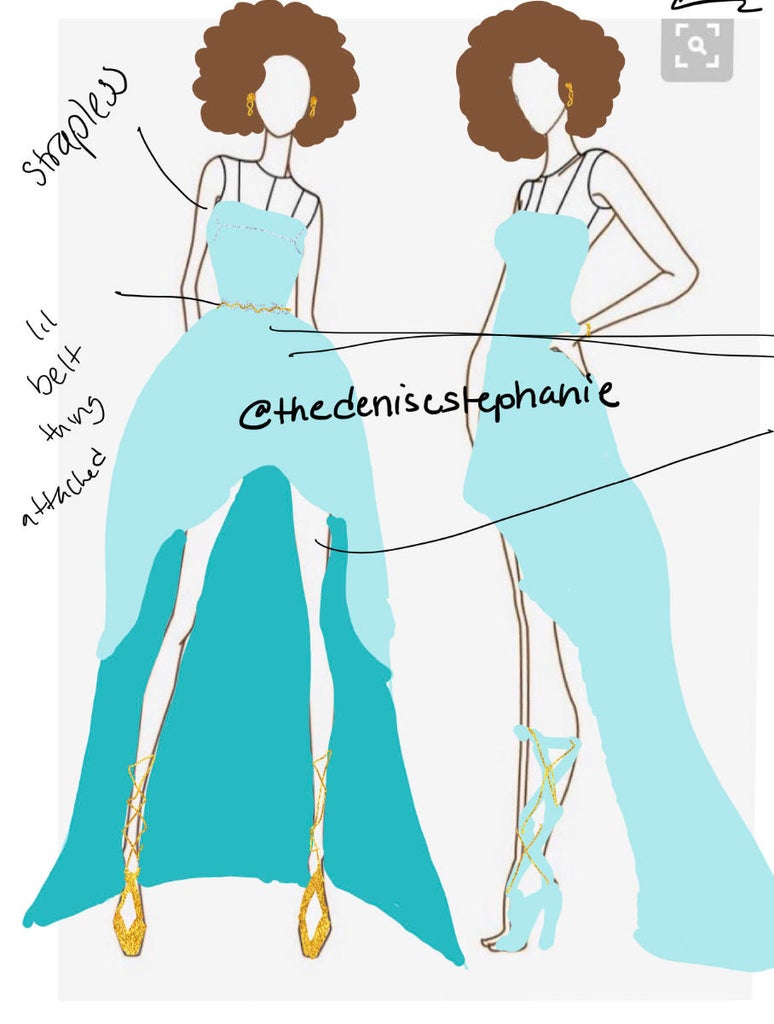 "It's going to be a huge task, but I'm excited," Hewitt said. "My friends will watch me do it — they're going to help me and make sure I'm doing everything right. It's going to be a collaborative effort, them helping me through FaceTime and messages."
She said she plans to wear her hair natural with the dress. "I wanted to have that Cinderella-Brandy look where it's kind of ballroom-esque but also wearing natural hair instead of straightening," she said. She doesn't typically wear makeup, but for virtual prom night she says she would swipe on some liquid eyeshadow from Stila and Fenty by Rihanna Match Stix — "confetti colors with purple and blue." (Hewitt says she's fangirling over Rihanna and her recent
British
Vogue
cover
. "I love that she chose to wear a do-rag, that brightened my day for a week straight.")
Prom isn't the only thing in Hewitt's life that has been canceled. After graduation, she was supposed to go to the island of Saint Vincent to visit family. There is a big Carnival celebration there in July, but not this year. She had been planning to do her senior project on the roots of Carnival — "it's a personal topic for me, because I grew up with Caribbean customs" — but she had to pick a new angle, which is now the impact of Carnival not happening.
With her parents being essential workers, Hewitt says she often thinks about the impact of coronavirus on her life. "One thing that is constantly in my head is how widespread this virus is, and I find myself running from the news because the way that it's portrayed is scary," she said. "Constantly seeing that as the only news that's covered has been getting to my head, and I have to monitor how much of the news I'm watching and limit my exposure." She finds solace through music (and shared her favorite playlist with us). "I'm in a permanent relationship with my Spotify account."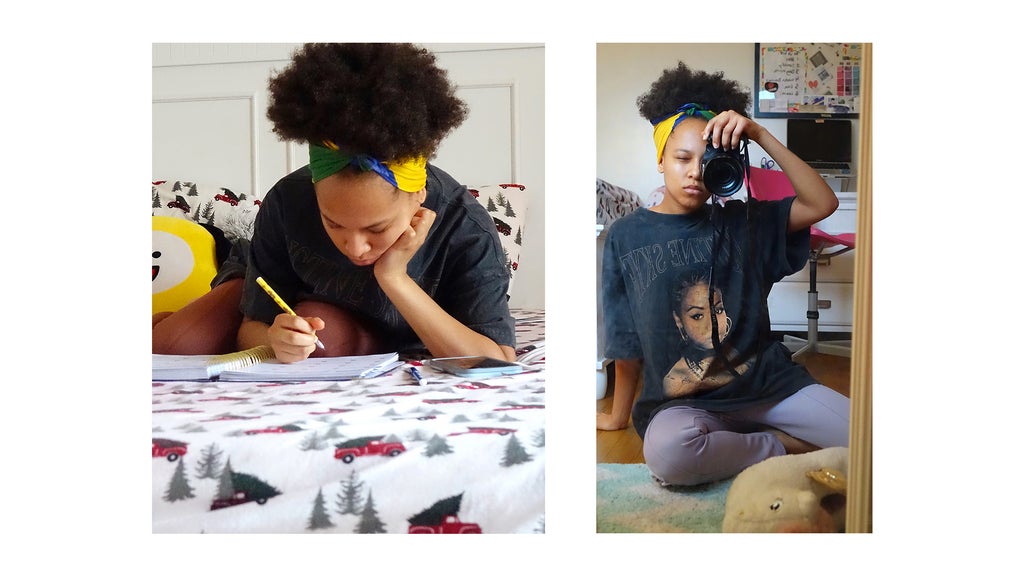 While working on creative projects is helping Hewitt cope, she says she also recognizes the need artists have for downtime. "A lot of people have been pushing for people to keep creating and making things — it's that assumption that you have time to create something new and come out as a whole new person," she said. "But you have to think about why you want to tell stories. Is it an actual story fueled by personal passion or do you just want that lifestyle? Finding that fire will make your future artwork better."
from
refinery29
At Home With A Teen Who Is Sewing Her Own Dress For Virtual Prom
Reviewed by
streakoggi
on
May 07, 2020
Rating: