Michelle Myles vividly remembers 9/11. On the day of the attacks, she was working at
Daredevil Tattoo
, her Lower East Side shop, just a few blocks from the World Trade Center. "It was the most traumatic thing I've experienced," she says
.
Despite the unprecedented fear, panic, and helplessness she felt closing her shop to the public that day, she quickly realized how she could help her community. As soon as it was safe, Myles and her team of artists began tattooing firefighters for free. "They were hurting so much," she recalls. "It was nice to be able to provide comfort to them in a time of tragedy."
Tattooing first responders for free was Myles' direct link to her community, and in its own way, helped her heal after the devastating attacks. "In the past, we've come together to rebuild," Myles says, noting that her shop has survived many hard times since it opened in 1997. "We've been through 9/11, the blackout of 2003, and Hurricane Sandy," she says. "But the coronavirus is scary because it's something we don't even understand."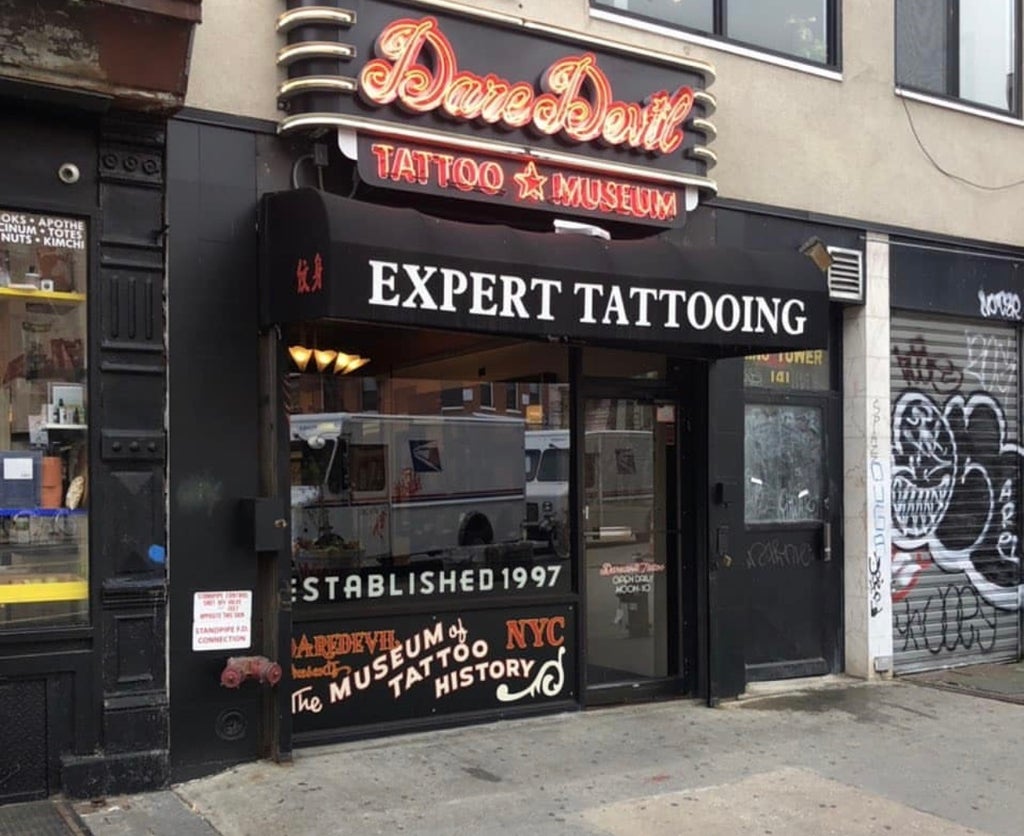 For artists like Myles, who works in one of at least
47,000 shops across the country
, navigating the COVID-19 storm feels scarier that past obstacles. Because of the closeness of tattooing, even as many states gradually begin lifting their shelter-in-place mandates, tattoo artists wonder when they can safely get back to work — and if it will be quick enough to save their shops and careers.
How COVID-19 Is Impacting Tattoo Artists
"It all happened so fast," says
tattoo artist Terry Downs
. "It was business as usual, and then we started to learn more about the virus and dangers in the news. All of a sudden, everything was done."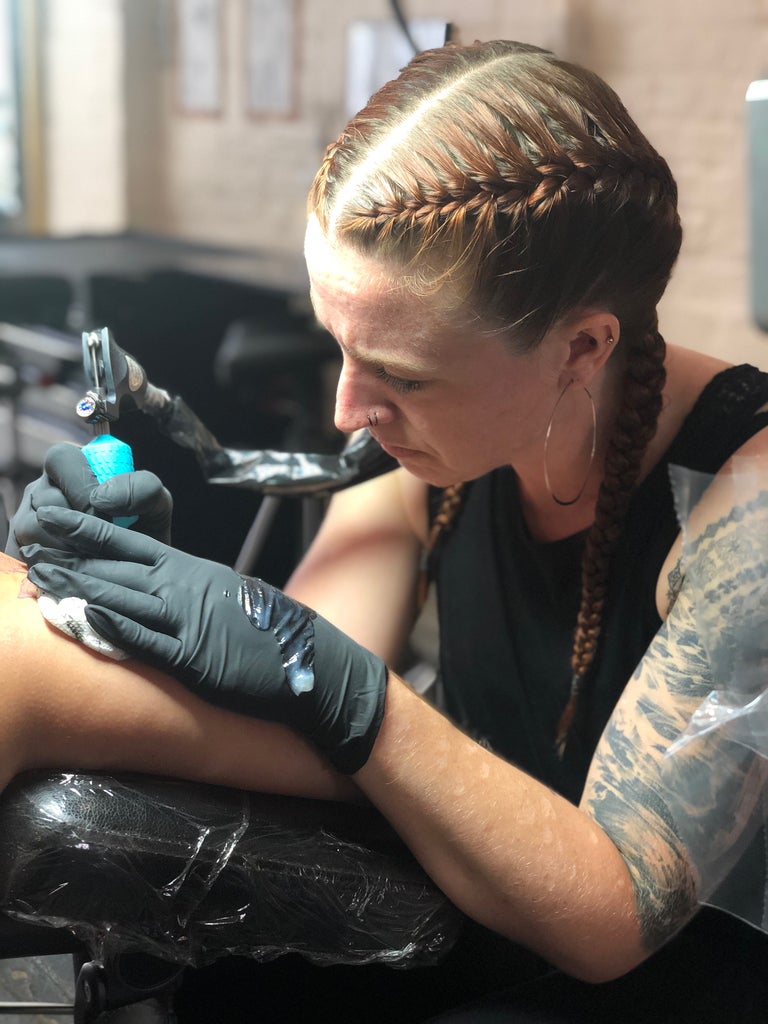 New York City tattoo artist Minka Sicklinger began postponing appointments in early March. "Myself and a lot of my colleagues slowed down on taking clients before Governor Andrew Cuomo's announcement was made," she says arbout the New York Governor's March 20th shelter-in-place mandate. "I felt a moral and social responsibility to my health and theirs to postpone them. Tattooing is a very intimate experience, and there's no real way to maintain any form of social distancing while tattooing."
Samantha "Cake" Robles
, a Brooklyn-based artist, also refrained from booking appointments in the days leading up to Gov. Cuomo's order. "My wife is an essential worker, and we didn't feel comfortable putting ourselves or my clients at risk," she says. Now, Robles is nervous about how she'll make it through. "I am really good about saving, but there's a possibility that restrictions can be put in place for longer than we anticipate," she says.
Because of this, she's made it an option for clients to pre-book appointments for the second half of the year — and the response was overwhelming. "I opened up a few appointments which allowed clients to pre-pay for tattoo appointments in July," she says. "Doing this helped me make enough money to pay my current bills."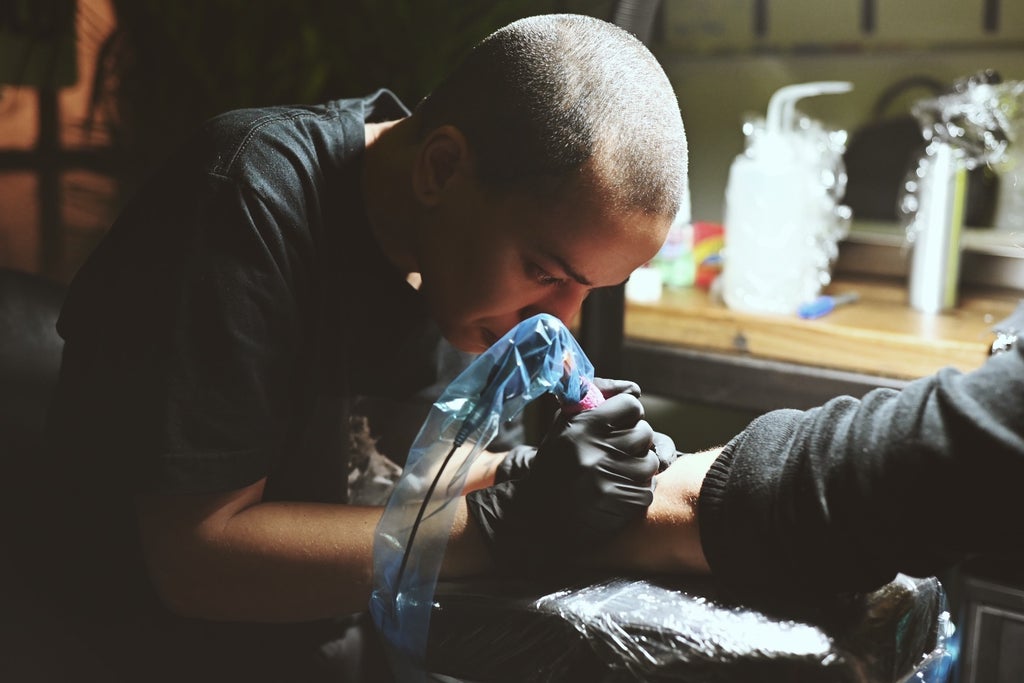 To pass the time, Downs has been busy working on fresh designs to attract new clients. "I've been drawing a lot and trying to generate as much interest as possible," she says. "When I am able to tattoo, I can hit the ground running."
Looking To The Future
Most artists we spoke to are taking it day by day, but most still worry about what business will look like after the pandemic. Luckily,
independent contractors
, like many tattoo artists, may now qualify for assistance, like unemployment benefits, but it doesn't quell the fear of what's to come. "If [people are] struggling to pay bills, they probably won't be racing out to get a tattoo," Sicklinger says. "They have to rebuild their lives and, even if shops open, there's no guarantee that we'll see the same volume of people who will be financially able to invest in work." As a shop owner, Myles shares similar sentiments. "Our business is in a tourist-heavy area of the city," she says about her Division Street shop. "Imagine if this thing wipes out tourism."
It's also left artists thinking ahead to new safety precautions. "We have to rely on the advice from doctors and scientists on how to deal with this moving forward," Myles says.
Vince C. Maximin, a bicoastal tattooer
who works in New York and Los Angeles, says that while all licensed artists should already practice careful sanitation and safety, COVID-19 adds another layer of caution. "We'll have to be more careful in the way we take clientele," he says. "I've considered verifying COVID-19 status before tattooing."
As some states look ahead to reopening, when tattoo shops will be included in these multiphase plans is unclear. In late April, Georgia Governor Brian Kemp authorized the openings of select businesses, including hair salons, nail salons, and tattoo shops. While some shops will remain closed to protect their artists and communities until further notice, others have opened for modified business.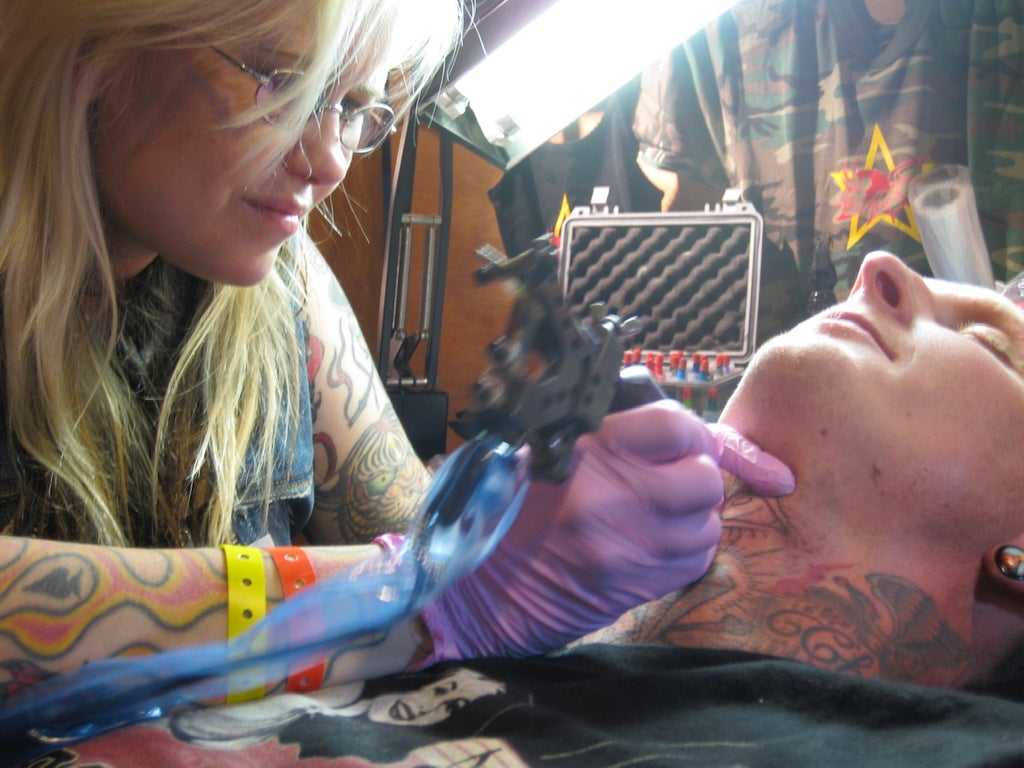 "I'm excited to be coming back to what I love,"
Nicole Villari
, an artist at
Tried & True Tattoo shop
in Atlanta, announced to clients via social media before opening on Friday. "We will be taking all of the normal precautions, except our doors will only open for people who have an appointment." She says guests and walk-ins are not permitted and all clients must wear a mask.
DanJae Sutton
, another Atlanta-based artist, also reopened this weekend. "I knew my health would be at risk, but I also knew that I had rent and bills I needed to pay," she says. "This was the first time I've experienced an economic situation like this and I wasn't sure how long it would last, so I made the decision to return to work." To prepare, Sutton cut back on the number of clients she took to increase her time spent cleaning. "I normally see up to six clients a day, but I've limited that to two or three people maximum," she says. "This gives me enough time to thoroughly deep clean before and after each client."
For Sutton, cleanliness before COVID-19 was as imperative as it is now. "Tattoo shops should already look similar to a doctor's office or have the nature of one in terms of sanitation practices," she says, noting that allergic reactions, skin infections, and blood-borne diseases are already issues artists avoid with safety protocols. Still, going forward Sutton says it's important to reassure clients of additional measures that are being taken.
Learning To Cope
While most tattoo artists grapple with the uncertainty of their jobs and finances, many of them share one comforting commonality: art. For Maximin, focusing on other passions has helped his creative and mental health while quarantined. "The pandemic has paused a lot of things I had planned for this year," he says. "But it has allowed me to slow down and reconnect with my first love: painting."
Sicklinger has also turned to art to help those affected by the pandemic. "I released limited-edition screen prints, and $25 from each sale was donated to the Feeding America food bank," she says, noting that
she was able to donate $950
to the organization.
Leaning on art doesn't take away from the unpredictability of COVID-19, but it does lend perspective. "I've been thinking about what I want my life to look like after this," says Sicklinger. "There's tattooing, then there's my natural progression as a human." Time alone has given her an open mind about pursuing other passions, like therapy or counseling, which she's developed an interest in through tattooing.
"I want to be able to have multiple income streams from creative outlets to protect myself better if something like this happens again," she says. "Until then, it's a matter of channeling that energy and focus into supporting each other. This is bigger than tattooing; it's about humanity."
COVID-19 has been declared a global pandemic. Go to the CDC website for the latest information on symptoms, prevention, and other resources.
from
refinery29
COVID-19 Will Change The Tattoo Industry Forever
Reviewed by
streakoggi
on
May 04, 2020
Rating: