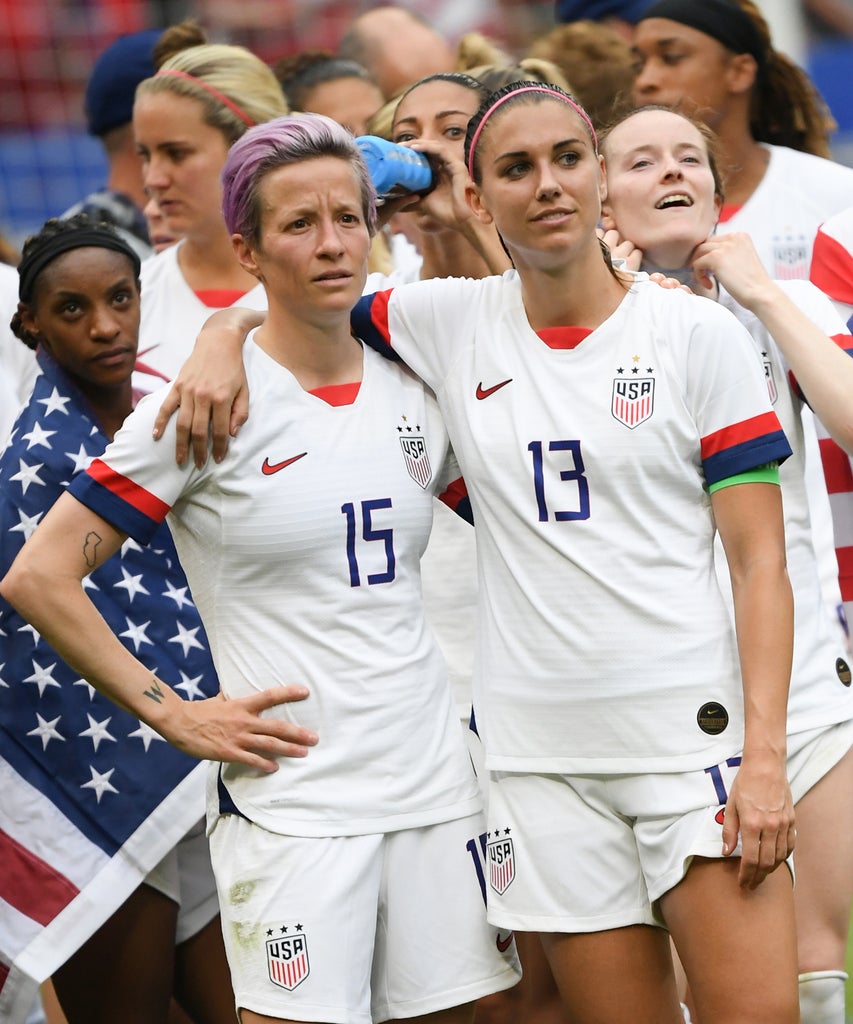 Even if you're not a sports buff, you've probably heard about the equal pay lawsuit the U.S. women's national soccer team filed against the The U.S. Soccer Federation in March 2019. You know: The one where badass players from the most-decorated women's soccer team in the world — including Megan Rapinoe and Alex Morgan — sued for almost $67 million, alleging they'd faced gender discrimination in the form of lower rates of pay compared to the men's team, as well as inferior training and playing conditions, travel arrangements, medical treatment, and coaching.
But on Friday, after a court battle that lasted over a year, a federal judge ruling in the U.S. District Court for the Central District of California in Pasadena threw out the USWNT's discriminatory pay claim.
It's a major setback. But Rapinoe and Morgan say they'll "continue to fight," despite the hurdle. In fact,
they plan to appeal the ruling
, according to an interview on
Good Morning America.
"This decision was out of left field for us," explained Morgan, a 30-year-old striker. "I think for both sides, it was very unexpected. We will definitely be appealing and moving forward. If anyone knows anything about the heart of this team, we are fighters and we will continue to fight together for this."
We will never stop fighting for EQUALITY.

— Megan Rapinoe (@mPinoe) May 2, 2020
U.S. District Judge R. Gary Klausner said he made his decision because the women didn't effectively prove discrimination under the Equal Pay Act. He noted that the U.S. Soccer Federation offered the USWNT the same "pay-to-play" salary structure — a system that
pays players "bonuses" based on individual performance
— that's used by the men's team. Instead, the USWNT accepted a different structure, one that allowed them to negotiate their annual salaries, had better maternity benefits, and included severance pay,
reports
The Washington Post
.
But Rapinoe, 34, a winger and midfielder, says her team was never offered the same contract
for the same amount of money
as the men's team. She adds that blaming the wage gap on the way her team brokered their salary structure alone is misguided.
"To say that we negotiated for our contract and that's what we agreed to — I think so many women can understand what this feeling is, of going into a negotiation knowing equal pay is not on the table," Rapinoe told GMA. "Knowing [that making] anywhere close to your male counterparts is not even on the table."
The players' other claims of inequitable treatment, including their disputes over access to training equipment and medical staffing, will be heard in trial on June 16. But many feel that the dismissal of the pay discrimination claim is a devastating blow. Rapinoe told GMA she was "shocked" by the ruling. "It's just so frustrating," she said. "To be honest, I think so many women go through this."
In a statement, the
U.S. Soccer Federation
said they'd "look forward to working with the Women's National Team to chart a positive path forward to grow the game both here at home and around the world."
— Joe Biden (@JoeBiden) May 2, 2020
Many
high profile celebrities, athletes, and politicians
have voiced support for the USWNT since the ruling, including Billie Jean King, who fought for equal prize money in the tennis wold in the '70s. "This is just a setback," King said of the team, according to
The New York
Times
. "There's so many of these ups and downs. Just keep learning from it, keep going for it. You're still such a great influence, not only in soccer, but for equality for everyone," she said, adding, "Everyone thinks women should be thrilled when we get crumbs, and I want women to have the cake, the icing and the cherry on top, too."
"This is definitely a hurdle in the road, but it's nothing that's going to stop or deter us from what we have always been true to, and that's true equality in the sport," Morgan said in the GMA interview. "We're still feeling optimistic and we'll get through this."
Women's Soccer Forced To Play On Fake Grass
The Secret To Megan Rapinoe's Olympics Training
Alex Morgan Just Announced Her Pregnancy
from
refinery29
Megan Rapinoe & Alex Morgan Respond To Equal Pay Ruling
Reviewed by
streakoggi
on
May 05, 2020
Rating: