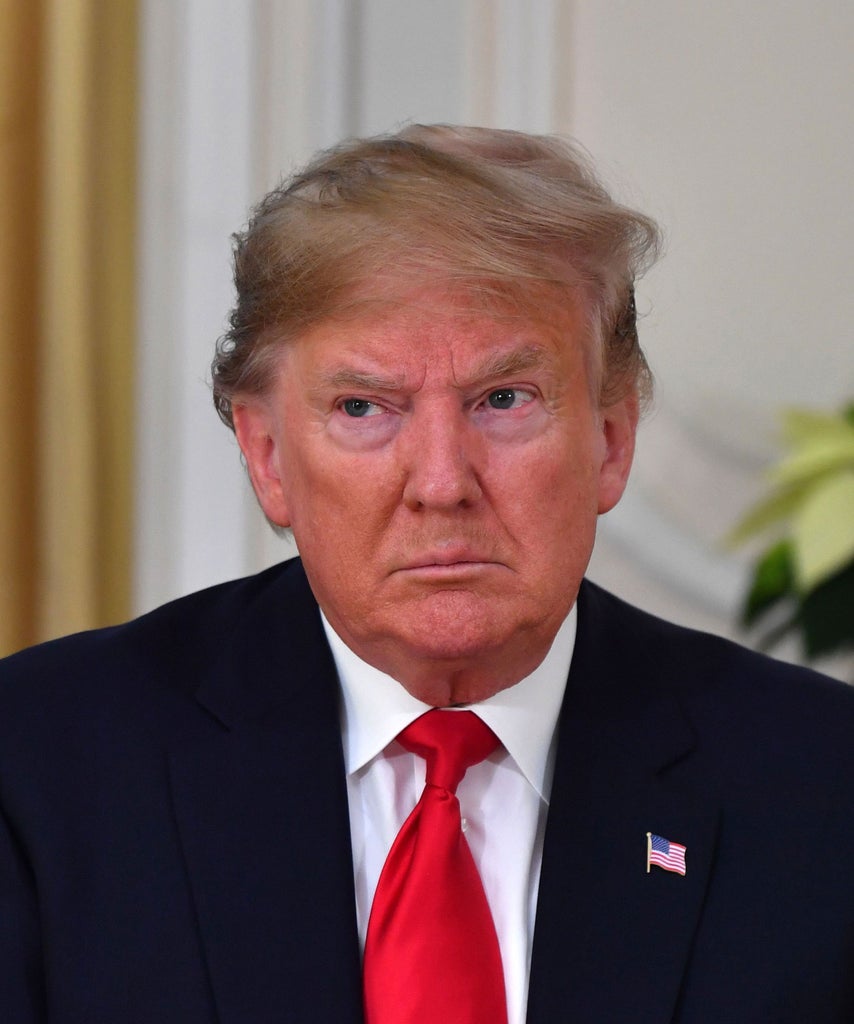 President Donald Trump continues to challenge anyone with expert opinions on the coronavirus pandemic that differ from his own misinformation campaign. During a National Nurses Day event at the Oval Office intended to honor frontline nurses on Wednesday, the president admonished a nurse practitioner who said there are still pockets around the country where personal protective equipment (PPE) is not as widely available as it should be.
"I think it's sporadic," said Sophia Thomas, president of the American Association of Nurse Practitioners. Thomas works at a community health center in New Orleans, which was an
early hotbed for the virus
. "This is an unprecedented time. And the infection control measures we learned back when we went to school, one gown, one mask, one patient a day per time, this is a different time."
Thomas added that she had been re-using her N95 mask for several weeks, before the president questioned her for suggesting access to PPE is scattered at this time. "Sporadic for you, but not sporadic for a lot of other people," Trump said. The president added that hospitals are "loaded up with gowns" and later criticized stories about PPE shortages as "fake news."
Unbelievable. The President of the United States quips back at a nurse from New Orleans who said PPE has been sporadic. She didn't say it in a negative tone. She didn't direct it at the president or the govt. She told her truth & he had to snap back.

pic.twitter.com/nvkzZU9qlA

— David Begnaud (@DavidBegnaud) May 7, 2020
This attack on a nurse's personal experience is not new for Trump, who has essentially been trolling the healthcare industry — even going so far as to accuse healthcare workers of stealing PPE back in March. Trump's competency at handling the global pandemic has been called into question throughout the national emergency, as the president has repeatedly lied in the face of the global public health crisis. Trump has misled the public about everything from the nature of the virus, to testing and treatments, even placing blame on the Obama administration.
More than once, Trump has claimed his administration
inherited "broken" or "obsolete"
coronavirus testing from Obama, despite the fact that the virus was not infecting humans during Obama's presidency. He has also lied on a number of occasions about coronavirus treatments, telling Americans a vaccine would be developed "relatively soon," and even suggesting that people could treat the virus by injecting disinfectant. Medical experts, on the other hand, say a vaccine may not even be available until the end of next year. They also urge everyone to not inject cleaning products.
Despite the fact that
more than 73,000 people have died
from the virus, and more than 1.2 million are infected nationwide, the president is again misleading the American people and going against the opinions of medical experts as he rushes to reopen the economy.
Of course, none of this is particularly out of character for Trump, who would prefer to put profits over the lives of millions of people. Even after a
leaked internal White House report
predicted the daily coronavirus death toll could reach 3,000 per day by June, the president is decidedly
putting his re-election bid ahead
of one of the most devastating public health crises to date.
Now, nurses are paying a toll for their hard work, being told by the highest office in the country that their concerns — and their protection — is not valid and does not represent the masses.
Trump Toured A Mask Factory With This Song Playing
Why Trump Is Suddenly Attacking Women Journalists
Trump Calls Michigan Protestors "Good People"
from
refinery29
Trump Rebukes Nurse Honoree For Claiming To Lack Enough Masks...
Reviewed by
streakoggi
on
May 07, 2020
Rating: