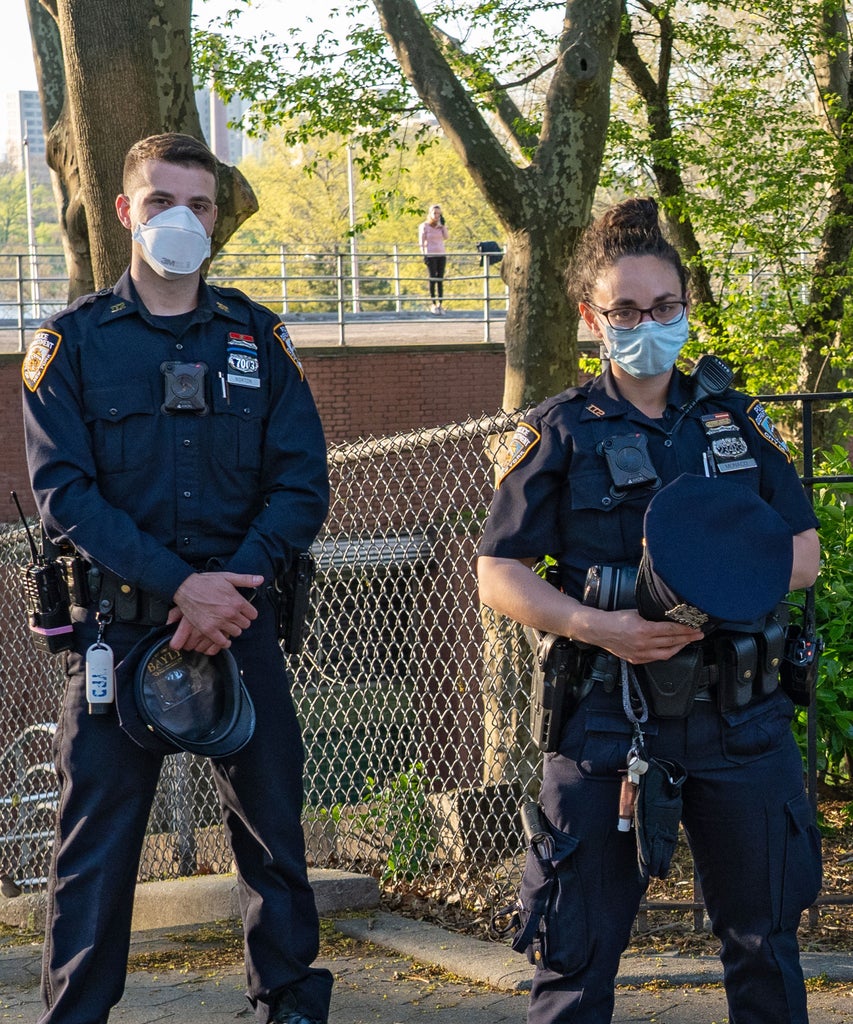 The NYPD began a widespread crackdown on social distancing violations over the weekend, part of a broad mandate by New York City Mayor Bill de Blasio aimed at curbing the spread of coronavirus. But while some transgressors got off with verbal warnings and summonses, at least two were tackled and beaten for their supposed infractions — prompting questions about disparities in the way police force is applied throughout the city.


Video taken in the East Village on Saturday shows a plainclothes officer tackling one man on the sidewalk as a crowd of bystanders looks on. Suddenly, the cop draws his Taser on one of the bystanders, commanding him to, "Move the f–k back right now." When the man doesn't immediately comply, the cop — who has been identified as
Officer Francisco Garcia
— begins to beat him, punching him multiple times and using his knee to the man's neck to pin him to the ground.
CW: Police violence

This evening in Manhattan, an NYPD officer approaches a group of people filming an arrest, deploys his taser indiscriminately, then grabs a young man and, without provocation, slams him to the ground, starts beating him and, with another cop, handcuffs him.

pic.twitter.com/N6bENczkOU

— Rebecca Kavanagh (@DrRJKavanagh) May 3, 2020
Daquan Owens, a bystander who filmed the incident, told the
New York Daily News
that the violence was unjustifiable. "Nothing was going on, nothing provoked the cop," Owens said. "He just got up, pulled his Taser out. I guess he was frustrated and took his frustration out on the guy."
The incident in the East Village sharply contrasts with other instances of social distancing enforcement over the weekend. In
photos taken in Brooklyn's Domino Park
, police officers can be seen smiling as they hand out masks to civilians lounging on the grass near the waterfront.
In response to the weekend's violence,
de Blasio wrote in a tweet
that he was "really disturbed" by the video that had emerged and said it was "simply not acceptable." While
New York City Public Advocate Jumaane Williams
acknowledged that he didn't know the specifics behind each incident that had taken place over the weekend, he said many had warned de Blasio that ramping up police enforcement would have disparate effects on different communities. Indeed, criminal justice advocates have long speculated that the criminalization of those flouting social distancing guidelines would fall along predictably racialized lines.
The crackdown on social distancing in New York City was prompted after a Williamsburg funeral for a prominent Hasidic rabbi drew some 2,500 attendees. In response to the incident, de Blasio announced on Twitter that "the time for warnings has passed," in what many Jewish community leaders felt was a targeted attack based on de Blasio's language in the tweet. Now, the mayor's orders are being enforced in other communities, and using more harmful tactics. "I have instructed the NYPD to proceed immediately to summons or even arrest those who gather in large groups," the mayor wrote. "This is about stopping this disease and saving lives. Period."
In an interview with
WNYC on Friday
, de Blasio confirmed that a thousand police officers would be dispatched to city parks over the weekend to enforce what he described as a "no tolerance for gatherings" policy, and added that New Yorkers who were not wearing masks or maintaining six feet of distance between each other would be penalized. "We're going straight to summons," de Blasio said. "If someone resists the summons, we're going to arrest."
While city police have been reticent to release demographic data on summonses and arrests related to COVID-19 infractions, NYPD Commissioner Dermot Shea
confirmed on Sunday
that police had made three arrests and issued 51 summonses over the weekend.
When asked about the violent arrest over the weekend, the NYPD team said that "Our efforts are working: In more than 500,000 visits across the city in the last five weeks, NYPD officers have exercised discretion to use the last resort of enforcement in just a handful of cases. Most New Yorkers are voluntarily complying, highlighting the good that results when the public and the police work together to solve problems and change behavior," they said in a statement to Refinery29. "But make no mistake: Enforcement action will be taken for those who refuse to cooperate."
Has Policing Of Social Distancing Gone Too Far?
Why Bill de Blasio's Twitter Warning Is Dangerous
NYC Subway Protestors Want To Fight Over-Policing
from
refinery29
Viral Video Shows NYPD Treating Social Distancing Offenders
Reviewed by
streakoggi
on
May 04, 2020
Rating: