The New York congresswoman echoes the fear of many left-leaning Democrats and progressive activists that Biden, now the presumptive Democratic nominee, won't be able to shore up the Latinx support necessary for a decisive victory against Donald Trump. The worry isn't that the electorate, which leans Democratic, swings for Trump, but that Latinx voters will stay home.
For the first time, Latinx people are projected to be the nation's largest non-white voting bloc, with an
estimated 32 million
people eligible to
vote in the presidential election
this year. This diverse political force, routinely overlooked by parties and pundits, will be crucial to Democratic chances up and down the ballot come November, particularly in battleground states like Arizona, Florida, and Pennsylvania.
To earn their vote, Biden could learn from Sen. Bernie Sanders.
Although Sanders, who
dropped out of the race in early April
, fell short of building a broad enough coalition to win the nomination, his 2020 campaign leaves behind a legacy of inspiring and attracting Latinx support through outreach efforts that had never before been attempted in American politics. Sanders, or "Tío Bernie," as many of his Latinx supporters affectionately call him, carried the demographic in several primary states, including Nevada, California, and Texas, where he won it by double-digit margins.
He won over young Latinx people, in particular, many of whom became involved in electoral politics for the first time because of his candidacy. In California, the Vermont senator won 71% of Latinx people under 30, according to
exit polls
. In Iowa, a predominantly white state that has seen its Latinx population more than double in the past decade, the electorate helped Sanders reach a near tie for first place with former South Bend, IN, Mayor Pete Buttigieg.
"It didn't matter that Bernie was an old white man, what mattered was that he was speaking to their issues and that's why they showed up for him," Neidi Dominguez, who served as the Sanders campaign's deputy director of states, told R29. "And that's why we had Tío Bernie, El Viejito, El Abuelito — you have the endearment of our community because he was really, clearly fighting for us."
The amount of support the campaign received from Latinx people, Dominguez believes, sent "shock waves" through both parties because it demonstrated the "magnitude and possibility" of their vote and proved that they could turn out for a Democratic socialist running on a "very progressive platform."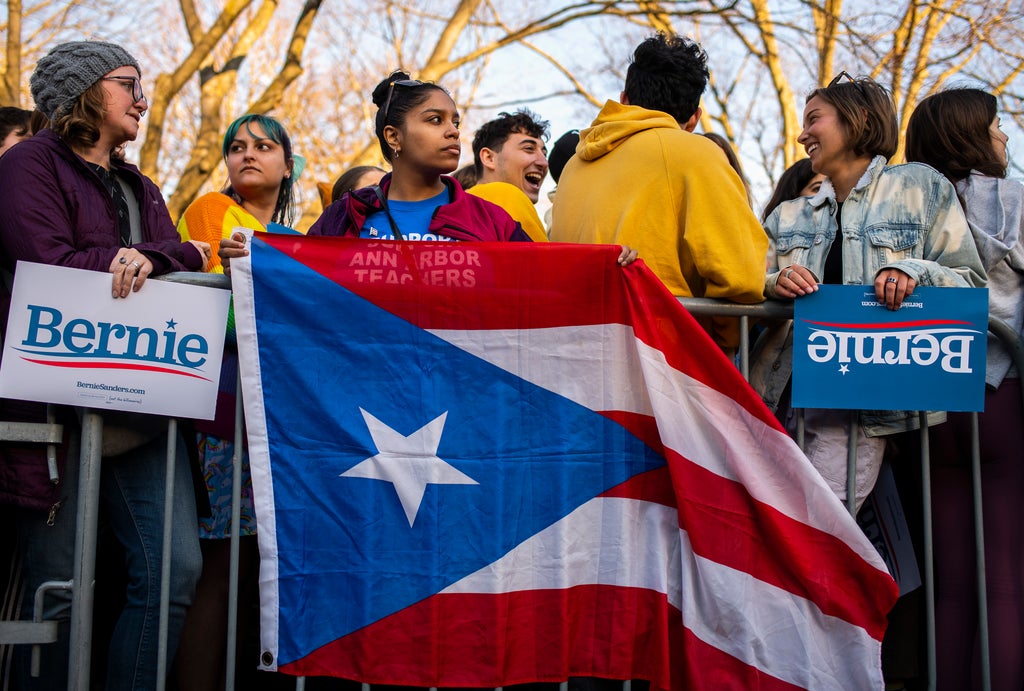 Sanders' policy positions, particularly his calls for Medicare for All and tuition-free college, explain much of his appeal. In poll after poll, Latinx voters
cite healthcare and economic justice
among the top issues driving them to vote. But the 78-year-old Democratic socialist was able to mobilize Latinx communities and translate the energy on the ground to turnout, in large part, because of the campaign's consistent outreach efforts and what his former staffers refer to as a "culturally competent" approach. They understood the differences between the Latinx populations in Las Vegas and Des Moines — and that plenty of households have mixed-status families. They held events in Latinx communities featuring local organizers and leaders, as well as traditional foods and music.
Many believe the Democratic Party's decades-long neglect of Latinx voters is largely to blame for the demographic's pattern of low voter turnout. As Chuck Rocha, the architect of the Sanders campaign's Latinx strategy, often says, candidates and campaigns have always treated Latinx people as an afterthought. Democratic campaigns have not traditionally invested in a robust Latinx outreach infrastructure because the conventional wisdom has held that it's a risk to prioritize these communities — considered "unlikely voters" — which continues a cycle of depressed turnout.
The Sanders campaign invested heavily and started earlier than any other campaign, focusing on community-based events, knocking on doors, making calls, and providing Spanish-language literature. It opened its first field offices in neighborhoods with large Latinx populations. It feels intuitive enough, but other campaigns did not engage Latinx voters on this level.
With the
coronavirus pandemic
halting all campaign rallies and in-person events, the Biden campaign won't be able to replicate key elements of Sanders' outreach operation. But Sanders has created a playbook that Democratic campaigns could mirror in the years to come.
Rocha also points to the fact that the campaign didn't have a separate department dedicated to securing the Latinx vote — it simply included Latinx staffers at every level of its operations. And instead of primarily recruiting Democratic operatives and political consultants, the campaign stacked its team with Latinx organizers with backgrounds in labor and immigration movements, who came from the communities they were trying to court.
"We each come from a different part of the diaspora, a different part of the country, but we've all been trained as organizers and there were many of us on the campaign that were like this, that understand that in order to move a room, you have to understand that room," Analilia Mejia, who served as Sanders' national political director, told R29.
In addition to winning Ocasio-Cortez's coveted endorsement, Sanders was backed by major groups like Make the Road Action and Mijente, which had never endorsed a presidential candidate before. Since Sanders' exit from the race, most Latinx groups have coalesced behind Biden, including Voto Latino. "This is our first presidential endorsement in our history," the nonprofit group said
in a tweet
. "This is not one we take lightly. It comes at a time when the Trump administration continues to attack the Latinx community."
Mijente, an online organizing tool for Latinx and Chicanx activists, shortly after the news of Sanders' departure, announced that three of the campaign's key staffers — Dominguez, Mejia, and Rafael Návar, who served as Sanders' California state director — are joining the group's #FueraTrump campaign as advisors. "The upcoming general elections will be a referendum on COVID-19, the casualties, and the many, many, failures of the president and his government," Marisa Franco, director and cofounder of Mijente, said in a statement. "Latino voters have already proven to be a game-changing force. And we need to finish the job."
In states like Illinois, Florida, and Arizona, which pushed ahead with their primaries despite dire warnings over coronavirus, Biden was more competitive among Latinx voters. But much of his favorability stems from the high level of name recognition, as his campaign arguably did the least outreach out of any of the 2020 contenders. Some Latinx leaders repeatedly
slammed
the Biden campaign's lackluster outreach efforts during the primary, saying he was taking voters for granted and wasn't sitting down with grassroots groups and activists.
Vania Ruiz-Badilla, 24, voted for Sanders in Arizona's primary but won't be supporting Biden in the general, despite the horrors of the Trump administration. "I don't think the Biden campaign and Democratic Party have done enough outreach to Latino voters," she told R29.
"They haven't tried to contact me through any method of communication. You get this feeling that they felt they could leave that up to Bernie Sanders, and then Biden would be the Democratic nominee and our votes would stay within the party with Biden. I know myself, like many of my friends, are writing Bernie in."
A
new poll
conducted by Latino Decisions, a Democratic firm, also suggests that Biden's Latinx support has been eroding during the coronavirus pandemic. The survey found that 59% of Latinx registered voters supported Biden or were leaning toward him, down from the 67% he scored in the organization's February poll.
"The campaign will continue speaking and engaging with the community through our national Todos con Biden network — which works to organize, listen, and meet the community where they are," Isabel Aldunate, the Biden campaign's deputy director of strategic communications and Hispanic media press secretary, told R29 about the campaign's current efforts.
"We are hosting virtual events, building community, having conversations about the issues impacting our communities, hosting roundtables with different members of our community, and including them in policy conversations," Aldunate continued. "Furthermore, Vice President Biden and our campaign have been engaging with progressive leaders. We are continuously considering additional policies that build on his existing policies and further the bold goals driving Vice President Biden's campaign."
Jose Menjivar, a mathematics professor at a Los Angeles County community college, said he supported Sanders in California's primary because the senator can "really identify with working people." And despite his issues with many of
Biden's policy positions
, Menjivar said, he will be voting for the presumptive nominee in the general election. He added that he is "concerned and a little afraid" Latinx voters won't turn out — unless the campaign shifts on policy and strategy — "and we're going to have four more years of this nightmare."
Although immigration isn't the only, or even primary, issue on the minds of most Latinx voters, his stances certainly complicate Biden's attempts to build trust within the community. It doesn't help that Biden continues to defend the Obama-era immigration policies that helped build the current deportation state. Despite backlash from some of the largest immigrant justice groups in the country, including protests at some of his campaign events and earlier debates, Biden has stumbled when trying to answer for the Obama administration's deportation policies.
Biden's immigration plan
has promised to end some of the Trump administration's toughest policies, such as family separation and restrictions on asylum, but it lacks some of the progressive policies embraced by previous 2020 presidential candidates, such as decriminalization of unauthorized border crossings, placing a temporary ban on deportations, and overhauling the agencies in charge of immigration enforcement.
Gonzalo Chavez of Sylmar, CA, is a Biden supporter, although he admits his daughter convinced him to vote for Sanders in the primary. He said he realizes that many Latinx voters have a problem with Biden's immigration record but believes "they're going to put that aside" and turn out to beat Trump.
Although Ocasio-Cortez intends to vote for Biden, she has argued that the process of uniting Democrats around the presumptive nominee should be "uncomfortable" for everyone involved. "It was just a couple months ago that he told immigrant activists to vote for someone else," she
said
. "I want to see him get uncomfortable there. Putting 'Dreamers' on a path to citizenship is great, but that's a policy concession from 10 years ago."
It was in February, a week before the Nevada caucuses, that Biden first expressed regret over the administration having deported hundreds of thousands of people without a criminal record. "We took far too long to get it right," Biden told
Univision anchor
Jorge Ramos, adding, "it was a big mistake" and the administration "took too long to get it right." (The Biden campaign did not respond to questions about his immigration record or the concerns Latinx activists have raised.)
"I think Biden and his campaign have a very important and crucial job to do, which is to adopt policies and platforms that clearly will benefit Latino communities, including undocumented immigrants," Dominguez said. "And to not just put it on paper, but actually speak to them in a way that those communities are going to be able to hear."
How Biden Can Win Over Bernie's Young Supporters
What We Lose When We Lose Bernie Sanders
Joe Biden's Success In November Depends On Women
from
refinery29
What Joe Biden Could Learn From Tío Bernie To Get The Latinx Vote
Reviewed by
streakoggi
on
May 13, 2020
Rating: