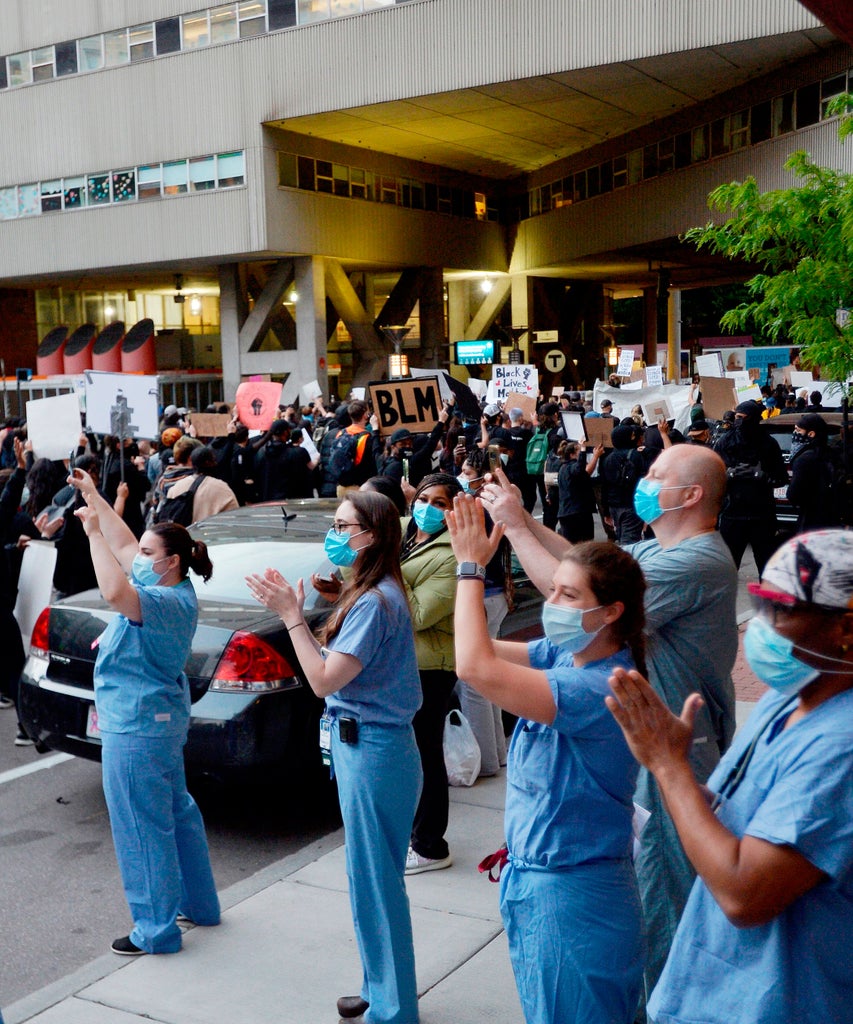 Nurses across the country are grappling with their desire to make their voices heard at social justice rallies across the country, the urge to help protesters who are being shot with rubber bullets and sprayed with tear gas, and the first-hand knowledge of how deadly and contagious COVID-19 can be.
Many Americans were heart-broken and outraged at the killing of George Floyd, an unarmed Black man who was killed in Minneapolis, Minnesota, at 46 after a white policeman pushed his knee into Floyd's neck for more than eight minutes. In particular, nurses and frontline healthcare workers of color were deeply saddened, says
Martha Dawson
, DNP, RN, a professor and the president of
the National Black Nurses Association
.
"For nurses of color working on the frontlines, it's disheartening to still realize that you're living in a country where you're under-appreciated and judged, first, on the color of your skin, rather than the content of your character," she tells R29. "And you have to recognize that the concern with the death in Minnesota is just now emerging as one stressor on top of the many stressors of the pandemic."
COVID-19 has
killed over 103,000 in the U.S. alone
, and the pandemic has
disproportionately affected people of color
. "Nurses now are not only stressed by the type of society they're living in, but also the post traumatic stress syndrome they may be facing," Dawson says. "With every one of those 100,000 patients that passed away [from coronavirus], there was a nurse who touched that patient at some point in time."
As protests in response to Floyd's killing continued over the weekend, and reports of some
law enforcement using force
to disperse protesters, healthcare workers began to speak up and step in.
"Everybody's out there," says Mariel Buquè, PhD, a psychologist in New York City. "When we say Black lives matter, we mean it, and we need to do whatever it is that we can at this very moment to hold people accountable for systemic oppression and the murder of Black lives. And if that needs to take precedence at any point over us needing to social distance, by all means… The pandemic seems so minute in the face of another Black life being taken."
This is amazing.

Nurses have been going straight to protests after long COVID shifts to help treat people hit with tear gas and rubber bullets.

pic.twitter.com/VG3ZKBd8FD

— Joshua Potash (@JoshuaPotash) May 29, 2020
One nurse on Twitter, Saba M, tweeted out tips to keep protesters safe from the spread of COVID-19. "Bring an extra mask," Saba wrote. "Yours will get hot and sweaty so switching it out halfway through is smart. If you have a cloth mask throw a bandana on top too!"
Saba also suggested bringing gloves, using hand sanitizers, and stepping away from crowds to eat or drink. "Remember, folks are screaming… it is inevitable that their spit (droplets) are flying," Saba added. "Dispose of/wash your mask as soon as you get home. Also,
sunglasses or goggles protect your open eyes from exposure
, too!"
Covid is still really and I want y'all to be safe! For those at protests, a few tips from a nurse after attending last night: bring an extra mask. Yours will get hot and sweaty so switching it out halfway through is smart. If you have a cloth mask throw a bandana on top too!

— Saba M🌱 (@gimmiemosab) May 30, 2020
Other healthcare providers are staying home. "I wish I could be protesting right now, because this is a pivotal moment in our nation's history," says Jane*, who has been a nurse for eight years and who asked to remain anonymous due to fears of repercussion at work. "I would love to be marching right now in solidarity, particularly to provide first-aid support. I've seen countless videos of unprovoked brutality against peaceful protesters across the nation, and I would consider it an honor and a privilege to tend those wounds."
But because Jane has been working with patients who've positive for COVID-19 at her job, she didn't feel it was safe to interact with those making their voices heard in her city. "It's not a decision I made lightly," she says. "I decided to instead donate
directly to my local ACLU
and
legal defense funds
, share donation links and
reading lists
, and donate medical supplies to groups in my area providing first aid at the protests."
Dawson says that many nurses will have to sit out the protests — not just because of health concerns, but because they won't have the time or energy.
"The nurses, first of all they're gonna do what's right — if they need to be there in the hospitals taking care of patients, they're still there because patients are their first priority," Dawson says. "If they decide to go out, they're going to go out and protect themselves. But I doubt that [many nurses] would have the energy to go out." Their jobs are so still draining that many nurses are instead opting to make their voices heard through social media and donations instead.
Whether or not they can physically attend the protests, many nurses are raising their voices to lend their support. Dawson put out
a press release
with the NBNA saying, "Nurses go beyond the call of duty to restore health to their patients and safe lives — NBNA expects and demands that law enforcement officers go beyond the call of duty to protect all people."
The National Nurses United
put out a similar release, stating, "Nurses care for all patients, regardless of their gender, race, religion or other status. We expect the same from the police."
But, Dawson emphasizes, right now, we need to "stop the virus and the injustices."
"I would just want to remind everyone: Whether you're going out to just socialize, to get a meal, go to the beaches, whether you're someone protesting saying 'we want to open economy,' or you're an individual saying we want to protest the lack of justice in the country — we still can't let our guards down," Dawson says. "With COVID-19, we're dealing with an enemy we can't see. A virus that doesn't know age, race, or ethnicity. You want to continue to use those best practices that have come out from the CDC. You want to use your mask, keep your distance. I just encourage the entire community and all of those that may be out at any type of gathering… We still need to practice precautions to protect us and others."
To help bring attention to the police killing of George Floyd, you can sign the Change.org petition here, or donate to local organizations like Black Vision Collective or Reclaim the Block via the Minnesota Freedom Fund here.
from
refinery29
Nurses Respond To George Floyd Protests During The Pandemic
Reviewed by
streakoggi
on
June 01, 2020
Rating: