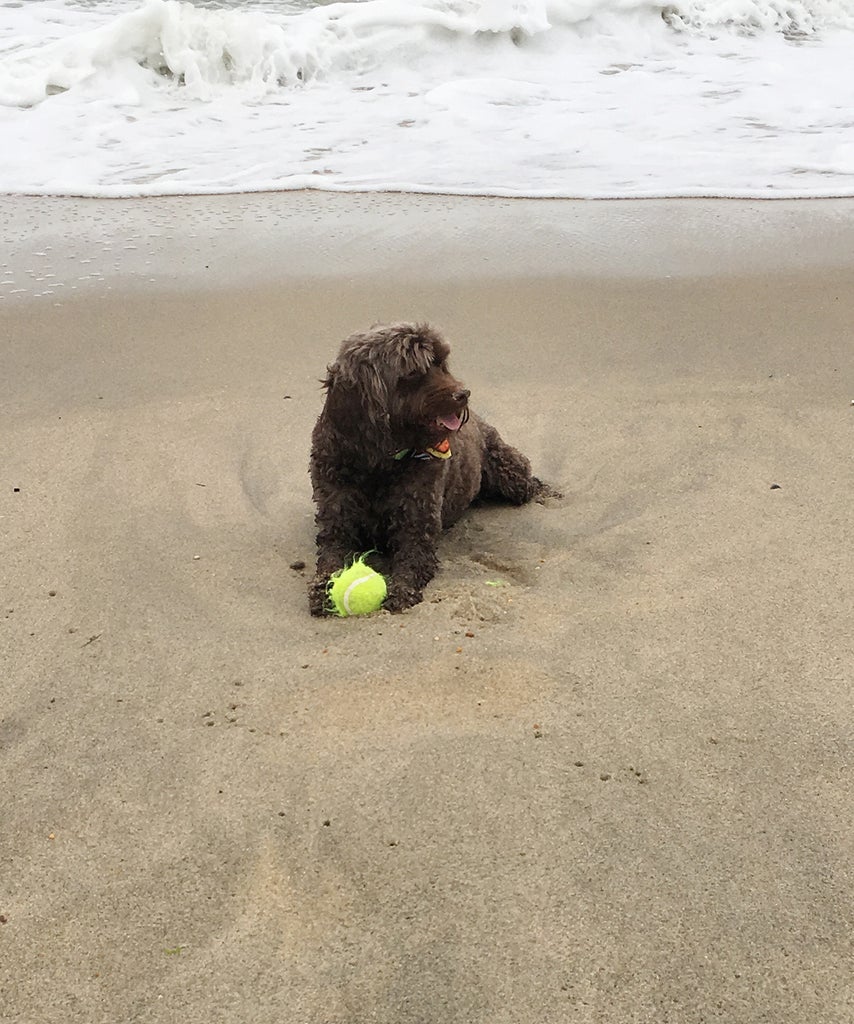 Now, we were leaving the city again. And Barley's age had begun to show. Among the pasta, dried beans, canned tomatoes, frozen vegetables, and Cheerios we'd packed, we also had several pounds of rice and multiple cartons of eggs because my old dog had reached the point where I had to cook for her.
Just over a week before her last day, she was running down the surf again, not coming when we called, my husband forced to chase after her and bring her back. Barley did not swim in the ocean like the Labs and the Goldens, but she ran along the surf to chase a ball, laid her tummy in the wet sand, and was always surprised when she got hit by a wave.
But a week after that, I had to carry her for most of that very short walk. After a brief but valiant attempt at some digging, Barley started licking sand and then threw up. The whole thing was a disaster that, start to finish, lasted less than thirty minutes. This would turn out to be her last beach trip.
It was also the second day of Barley's bad breathing, the thing that worried my Dad more than her occasional shaking or falling down the stairs or even her seizures. I took comfort in the fact that she was still eating. But the next day, despite three helpings of breakfast, she barely touched her dinner.
We hung up. We cried. We called my Dad. We knew what we had to do but it didn't make it any easier. My Dad, of course, had some Torah to share. It was a "chesed shel emmet" or a "true kindness," he said, because she could never repay it.
For thirteen years she had given me so many kindnesses. Through dumpings, firings, and moves, Barley licked the tears from my face. Here was a last kindness I could give her.
R29 Readers' Amazon Hidden Gems: Pet Week Edition
7 Beauty Brands That Also Make Stuff For Pets
Everything To Know About CBD Products For Pets
from
refinery29
The Pandemic Loss I Didn't Expect
Reviewed by
streakoggi
on
July 10, 2020
Rating: