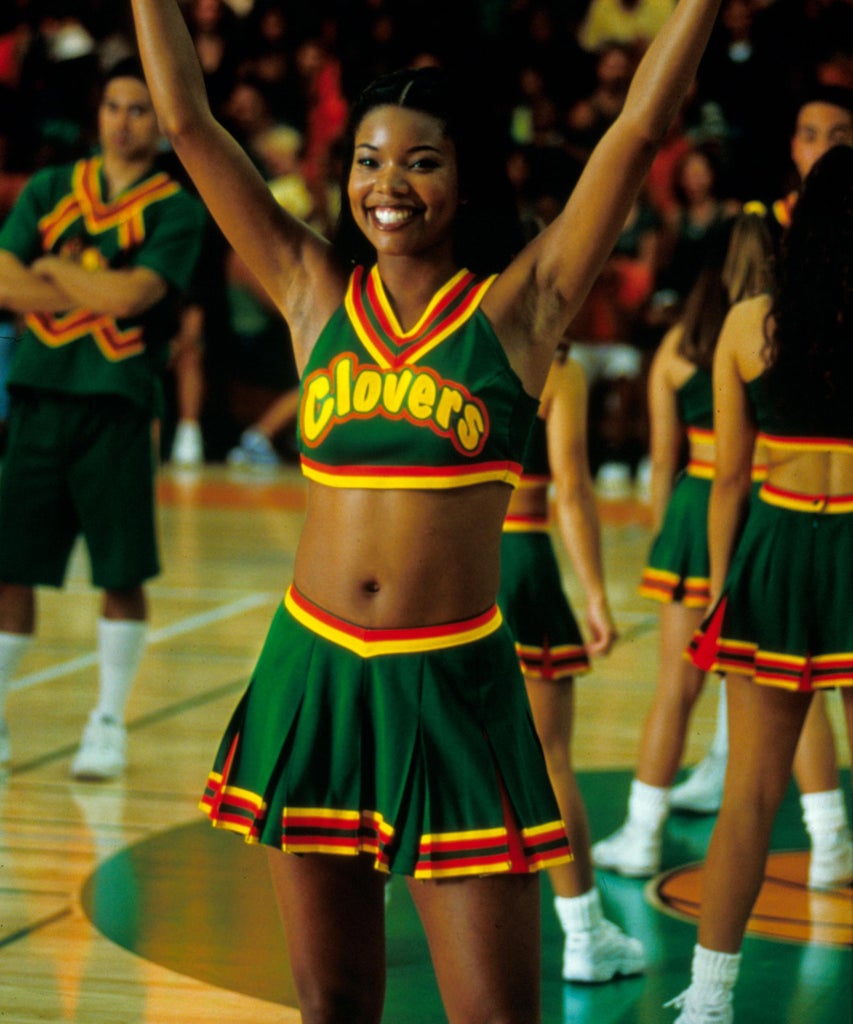 Two decades later, the fashion of
Bring It On
feels somehow even more on-trend today than it did when it came out. Bike shorts, chunky New Balance sneakers, tie-dye — these all are the hallmark looks of the 2000 cheerleader teen comedy. "What goes around comes around in the world of fashion, it's cyclical. And what you see now, in 2020, you're going to see it again in 2040, so it just circles and cycles around," says
costume designer Mary Jane Fort
. "I really tried to make it as authentic as I could for that age, at that time, and not be too trendy. I wanted something that could hold up."
She succeeded. Following the story of two rival teams, San Diego's Rancho Carne Toros, led by Torrance (Kirsten Dunst), and Los Angeles' East Compton Clovers, led by Isis (Gabrielle Union), Bring It On's fashion features all of today's biggest trends, alongside relics of the time, like tube tops, butterfly clips, and platform sandals, that fared less well. "I was just trying to tell the stories of the characters and who they are. And, of course, you look at fashion [around you at the time], but you don't necessarily follow it."
When it came to the two uniforms, which are arguably the most iconic looks from the film according to Fort, it was "a lot of fun to design them." The main colors, red for the Toros and green for the Clovers, were a strategic choice: "The colors were a group decision with myself, [film director] Peyton Reed, the production designer, and the director of photography because it reflected the colors of absolutely everything else." After the colors were selected, Fort came up with two styles for the Toros: a sleeveless and a turtleneck version. "That's actually just two pieces," says Fort of the turtleneck they slipped underneath the shell top. "It looked like two different uniforms, but it was the same uniform."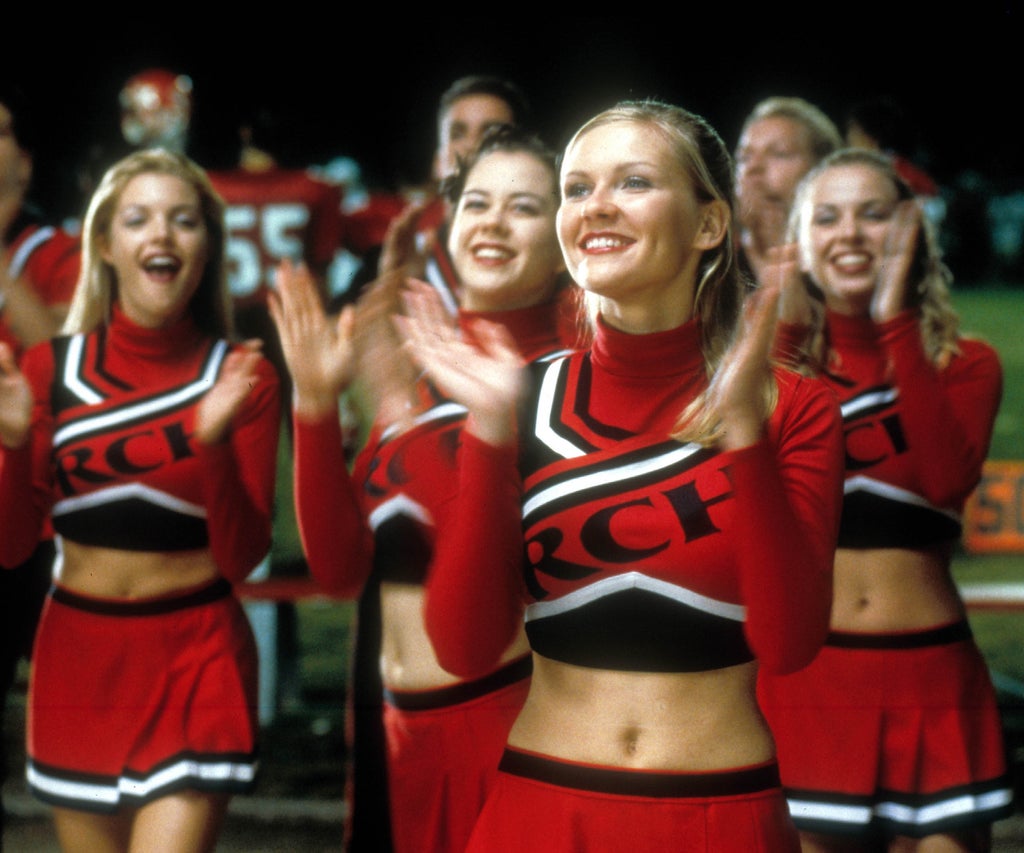 To make clear that the Clovers were from a bigger city than the Toros, Fort added "little subtleties" to their uniforms to make them appear more trendy. The tops are shorter and the style, with the red-and-yellow accents and more geometric neckline, bolder and more confident in comparison to Toros' more traditional look.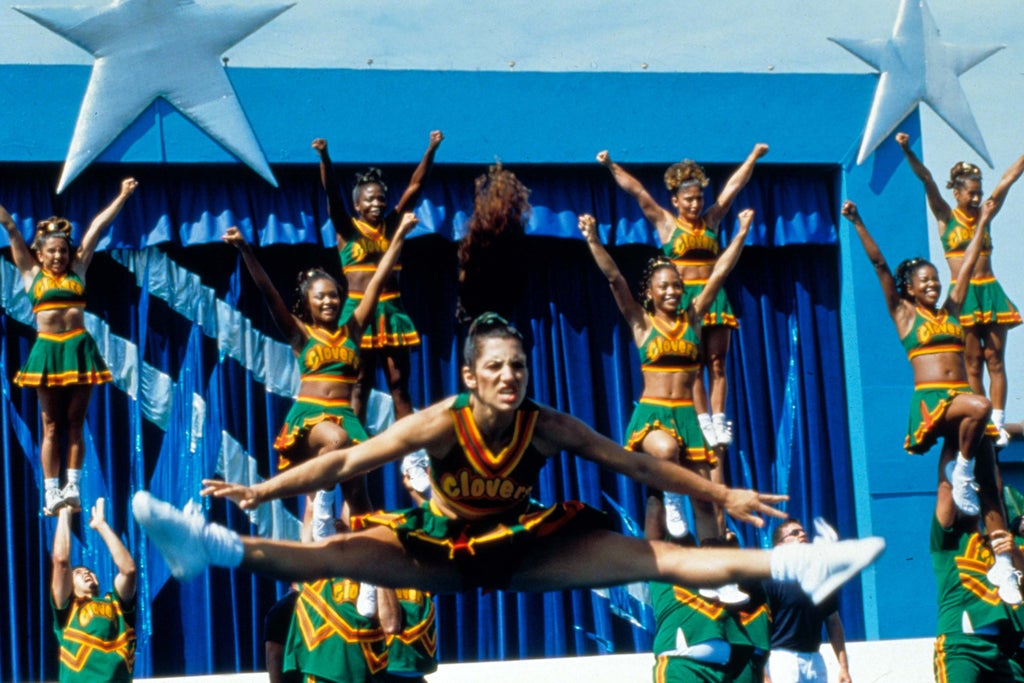 Fort wanted to make sure that the rival looks could also stand side-by-side as equals in the film's most pivotal scenes. "The two uniforms had to work together. They had to complement each other without matching, without competing, and both had to be noticeable."
When coming up with the costumes used outside of competitions and practice, Fort envisioned "places that the character could go to, be it the mall or the local boutique." As the costume designer behind the other most popular film of the time, Mean Girls, she has experience with that. "You try to get into the head of where the characters would be able to go — like, where would Torrance go to get her sweats?" she says. For the Toros, Fort envisioned a beachy look, mimicking what people wore at the time. "It is the antithesis of trendy," she says. "In Southern California, people wear shorts, people wear tank tops." Meanwhile, Clovers were dressed in more on-trend fashion of the time. (It should be noted that the mostly-open cardigan with nothing underneath, seen below, is one of the biggest trends of this summer.) "It's the same with the Clovers. You would go to the places that they go to," she says. "They had more options of places to go, being from a bigger city. Things that you couldn't get in the more sort of provincial place like San Diego."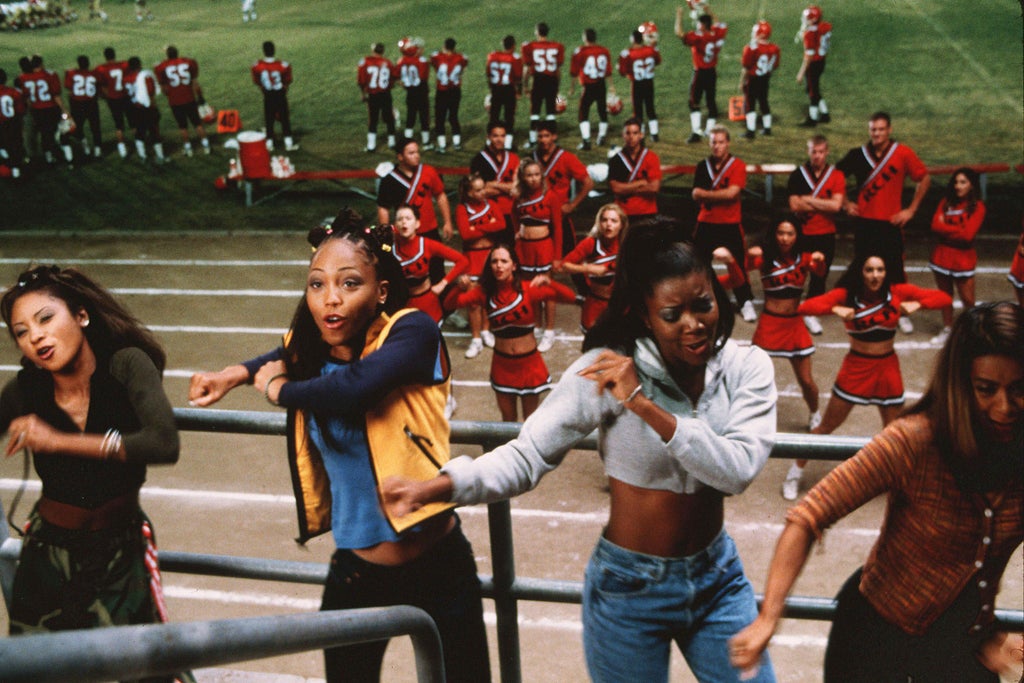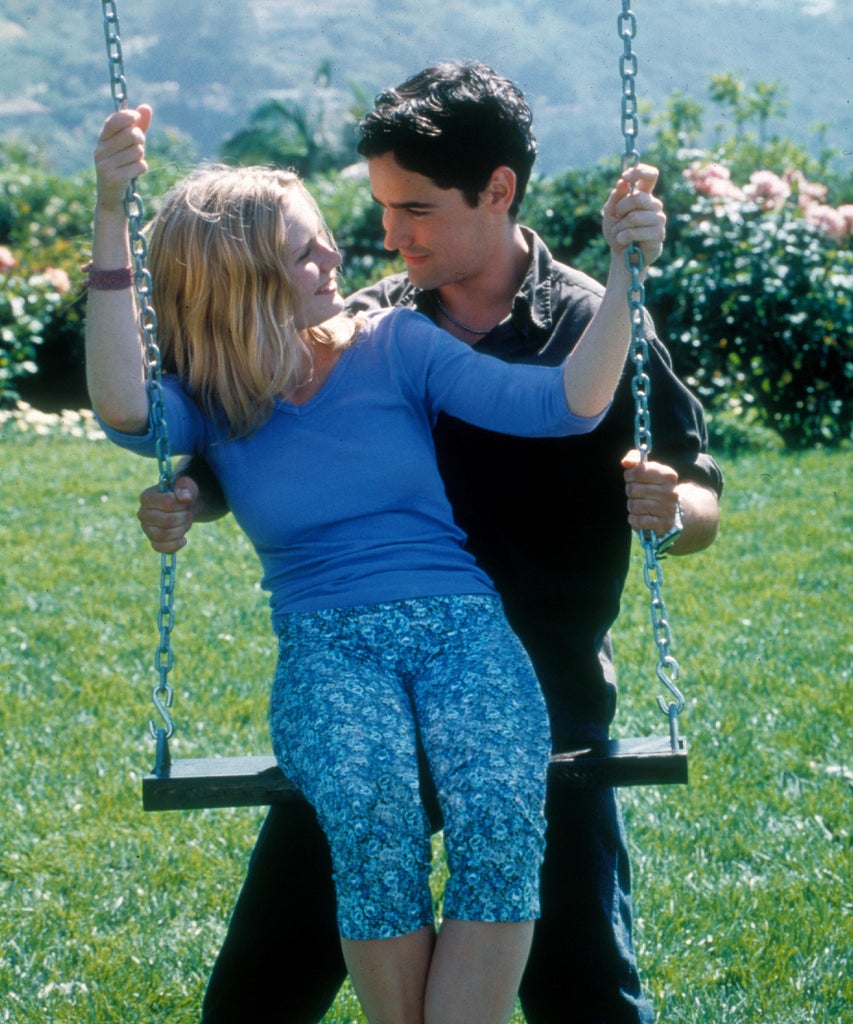 Torrance's wardrobe is indeed girl-next-door saccharine sweet, filled with floral dresses and capri pants that she pairs with pastel sweaters. "She's the head cheerleader, so she has a certain perkiness to her and she has a very precise way of putting everything together," Fort says. In some instances, that translates to all-pink everything, from cutesy pink pajamas (with heart prints and kiss prints, no less) to a "Campus Queen" pink tee and a pink floral bikini which she pairs with floral-embellished platform flip-flops. "She's that girl — pink is her favorite color, and that's what she wants to be in," says Fort.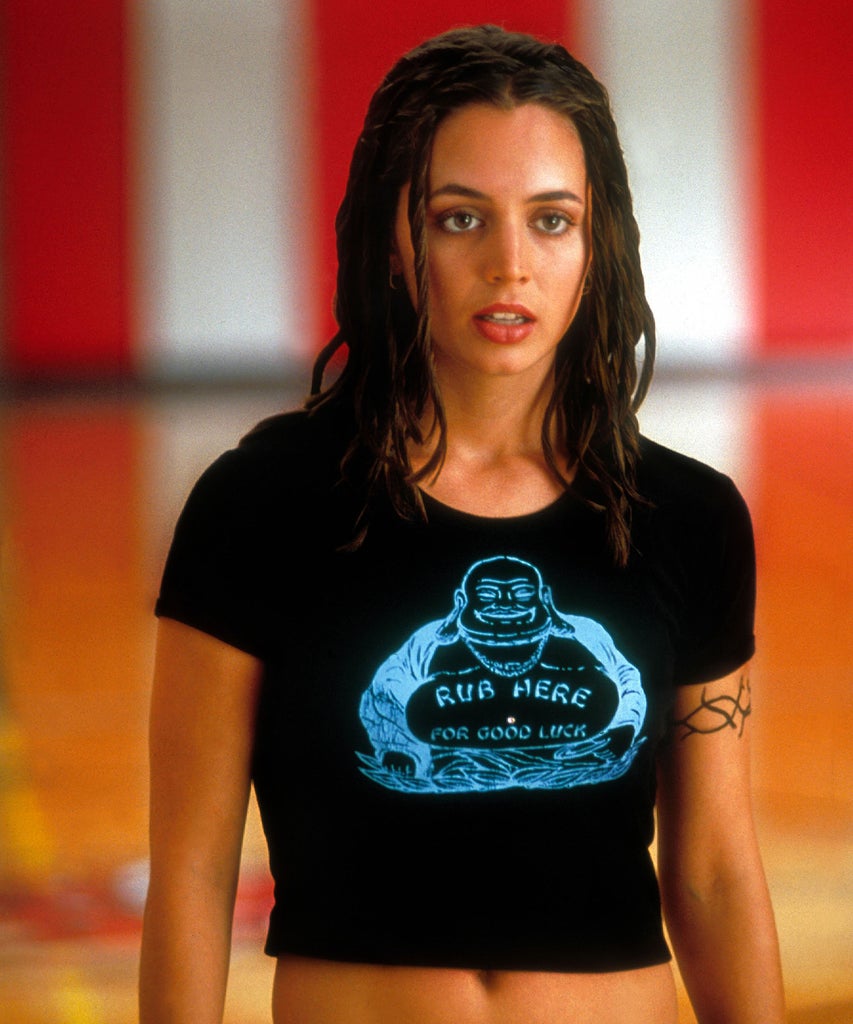 This was meant to contrast the look of Missy (Eliza Dushku), the new girl who transfers from a school in Los Angeles and, at first, is hesitant to join the team. "Your school has no gymnastics team, this is a last resort," she says in one of Bring It On's most iconic lines while auditioning in a "Rub Here For Good Luck" crop top showing a buddha and unpractical low-rise pants.
"She's not a girly-girl," Fort says. "She comes from Los Angeles, and I know it's only a 100 miles away, but there's a world of difference." While Missy opts for a darker color palette and leather jackets, Torrance reaches for hoodies and a vibrant color scheme.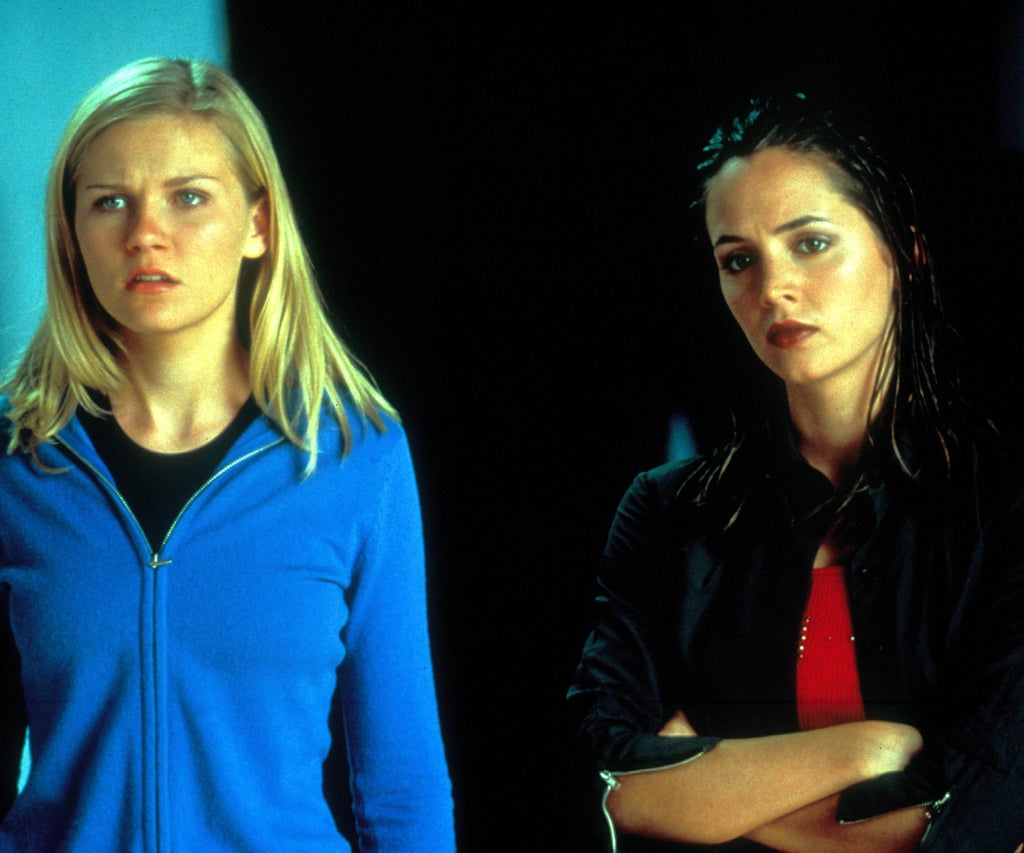 While their styles are in contrast to each other, in practice, all the girls are similarly dressed, wearing the workout go-tos of the time: Nike sports bras and athletic shorts, Adidas track pants and crop tops, tank tops, bandanas, and scrunchies. "The cheerleading costumes were so bright. [And] they were in them a lot. We didn't want to overpower [the rest of the film] with clothes and too many pieces," says Fort. It's ironic, then, that it's the same looks that we find ourselves wearing today in quarantine, with athletic shorts, bananas, and sweatsuits becoming the (unofficial) uniform of 2020.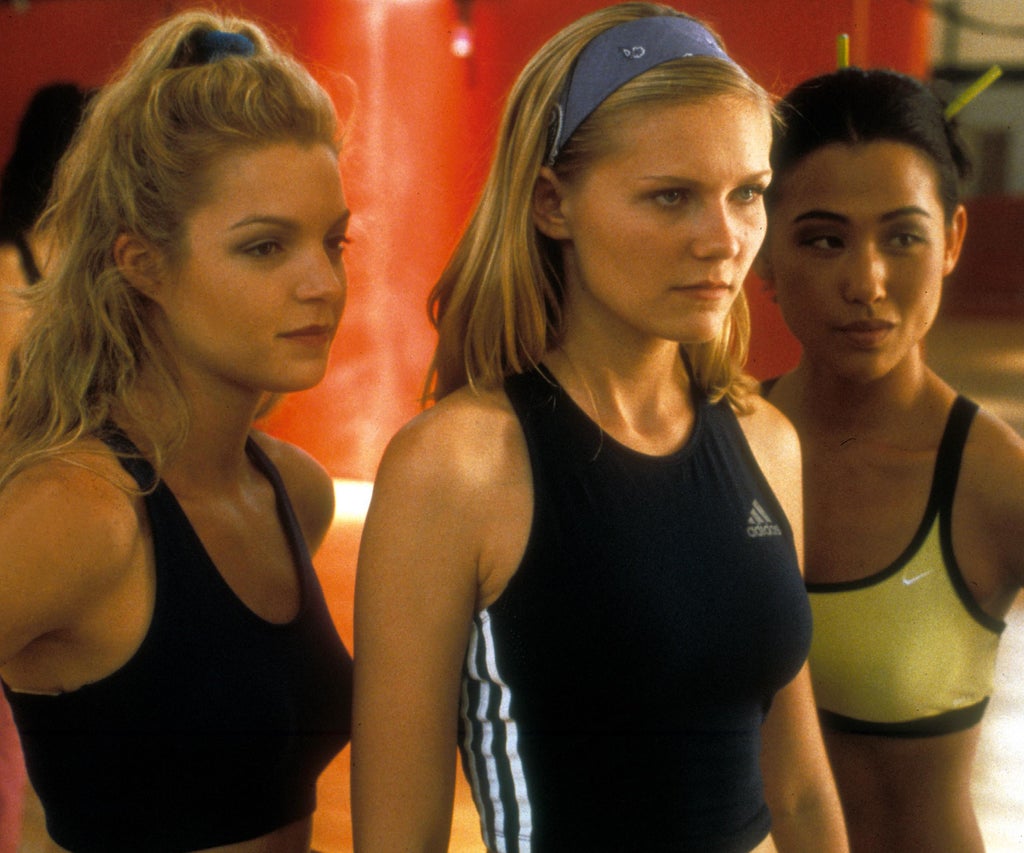 All to say, we would gladly borrow
Bring It On
's entire wardrobe. Don't agree? To quote the great Torrance Shipman, "This is not a democracy, it's a cheerocracy. I'm sorry, but I'm overruling you."
from
refinery29
20 Years Later, The Costumes Of Bring It On Hold Up
Reviewed by
streakoggi
on
August 22, 2020
Rating: