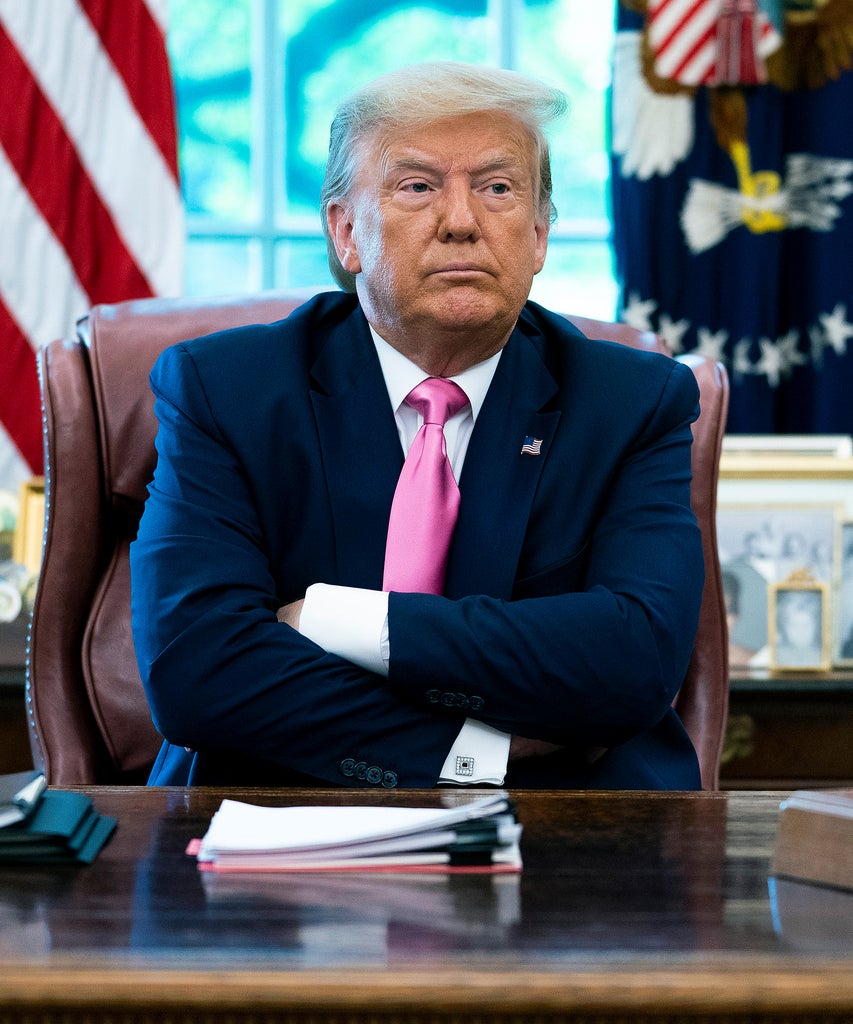 President Donald Trump is again escalating tensions with China, this time with plans to ban the social media apps TikTok and WeChat from use within the U.S. in the next 45 days. Trump has long pushed measures against the Chinese government, taking
actions to attack China on trade, defense, and technology
, which have further destabilized diplomatic relations between the two countries. In two new executive orders, the president is now giving TikTok and WeChat 45 days to sell to a U.S.-owned parent company before they are completely ousted.
The
executive orders seek to ban transactions
between TikTok and WeChat's parent companies, ByteDance and Tencent respectively, and U.S. citizens, citing national security concerns. Both apps could be cut off from receiving advertising from U.S. companies and could be forcibly removed from the Apple and Google app stores,
according to NPR
. Trump's TikTok order further plays into the president's ongoing "Red Scare" against Communism, arguing the app is censoring and spreading information in alignment with the Chinese Communist Party.
Legal experts say the Trump administration couldn't legally enforce a ban on TikTok, but "he can interfere so heavily with TikTok's business that an American TikTok clone will replace it," Kyle Langvardt, a law professor at the University of Detroit,
told Business Insider
. Likewise, a ban on the app wouldn't necessarily impact the millions of people who have already downloaded it, unless the president enforced it at the network level. Such a ban would involve blocking communications between servers and users, which is also
unprecedented under U.S. law
.
TikTok echoed similar concerns, and said the ban would set a "dangerous precedent" and undermine "global businesses' trust in the United States." The U.S. government and TikTok have been in communications over the last year to find a solution to concerns over the company's ownership. But the Trump administration has ramped efforts to ban the app since July, the
New York Times reports
.
Secretary of State Mike Pompeo told Fox News on July 6 that the Trump administration was "certainly looking at" a TikTok ban, again suggesting that user data could end up "in the hands of the Chinese Communist Party." The following day, Trump said a ban could be into effect as punishment for the coronavirus outbreak, again forwarding Sinophobic rhetoric.
Over the last four years, the
Trump administration has escalated tensions with China
through a series of measures taken against the country's government. Trump has put in place punitive tariffs on Chinese goods; blacklisted the Chinese tech company Huawei, with claims China was using the company to infiltrate U.S. telecommunications infrastructure; and more recently, pushed racist narratives about the coronavirus, blaming China for its spread.
TikTok may be the president's latest enemy in his ongoing technological war with China, but Trump's proposed ban is about much more than the video-sharing social network, and things could get a lot worse.
Trump: Joe Biden Will "Hurt God" If Elected
Facebook Has Finally Decided To Censor Trump
Is Trump's Administration Violating The Hatch Act?
from
refinery29
Things Just Got A Lot Worse In The Battle Between Trump & TikTok
Reviewed by
streakoggi
on
August 08, 2020
Rating: